---
The Austin E. Knowlton Science Center, a 32,500 square foot building designed for 21st century teaching and learning, is projected to open in academic year 2020.
Science
As a student in the science department at Bluffton you will experience an intimate yet intense learning environment. The small size of the department and the university means that science students can and do pursue widely varying interests and activities including athletics and music.
Our faculty are dedicated Ph.D. professors who will work one-on-one with you from your first day on campus all the way through graduation. They will help you in your academic program and advise you along your path toward a career in science.
The department offers majors in
Bluffton also offers majors in the health sciences of nursing, dietetics and speech-language pathology and audiology.
Biology
As a biology major, you will receive a broad education consisting of courses that focus on cells, invertebrates, plants, animals and humans. Ecology and environmental biology are stressed. Independent study opportunities exist at the Bluffton University Nature Preserve, greenhouse or in the Riley and Little Riley Creeks which flow through Bluffton.
This preparation will serve as a basis for entering fields such as teaching, biological research, medical professions, agriculture and naturalist fields.
---
Our students
Katelyn Amstutz, a junior biology major from Dalton, Ohio, spent several weeks this summer analyzing viruses found on Ohio poultry farms and the vaccines that prevent them.
"Getting to look at things like RNA and DNA is cool because it's what makes up all of the stuff that makes anything biological work." >>>Katelyn's story
---
Students interested in pre-medicine or other health-related fields can complete a biology major, a chemistry major, both or the pre-medicine major.


EXPLORE COURSES REQUIRED FOR
a major in biology
a minor in biology
Complete a major in biology in four year with with the following guildlines
Biology, beginning odd year
Chemistry
Bluffton's chemistry program closely follows the guidelines set by the American Chemical Society and includes a strong emphasis in the core areas of chemistry: analytical, inorganic, organic and physical chemistry. You will take some physics and mathematics courses and if you have an interest in computers, you can take computer courses as electives.
Students have the opportunity to work with a faculty member to design a project in your area of interest. Former students have engaged in independent studies in several ongoing environmental-chemistry projects and analytical/instrumentation projects.
---

Our students
During the summer of 2016, Chelsea Zoltowski, a chemistry major from Toledo, was part of a team using biomimicry in the study of geckos.
>>> Chelsea's story
She then presented on her experience during a First Tuesday Forum.
" I learned that science is everywhere. I realized that going in as a chemistry major, but after listening to my peer's presentations and doing my own, I realized everywhere you look there's science." >>> more about her presentation
---

Students interested in pre-medicine or other health-related fields can complete a chemistry major, a biology major, both or the pre-medicine major. A Bluffton chemistry degree is a good foundation for graduate work leading to a career in chemical engineering.
EXPLORE THE COURSES REQUIRED FOR:
Complete a major in chemistry in four year with with the following guildlines:
Chemistry/pre-med double major even year
Physics
As a physics major, you will receive a core preparation in physics plus training in math, chemistry and computer science. The core includes calculus-based general physics, thermodynamics, modern physics, quantum mechanics, electronics and instrumentation.
---

Our students
Kris Lyons '18 spent the summer shadowing radiation oncologists at the Cleveland Clinic. The internship provided the physics and chemistry double major a unique networking opportunity along with exceptional hands-on experience.
"It was definitely a confidence booster knowing that my education at Bluffton is providing me the tools that are necessary for this complicated, advanced and evolving field." >>>Kris's story
---
While Bluffton does not offer an astronomy major, students who completed a physics major at Bluffton have been successful in graduate astronomy programs. The physics department owns several telescopes including computer-guided telescopes, and physics students have pursued independent studies in astronomy.
A Bluffton physics degree is a good foundation for graduate work leading to a career in engineering.
>>>career opportunities in physics
EXPLORE THE COURSES REQUIRED FOR:
Complete a major in physics in four year with with the following guildlines
Pre-engineering
ARE YOU LOOKING FOR A WAY TO APPLY YOUR SCIENTIFIC ABILITIES AND CREATIVITY TO SOLVE REAL WORLD PROBLEMS?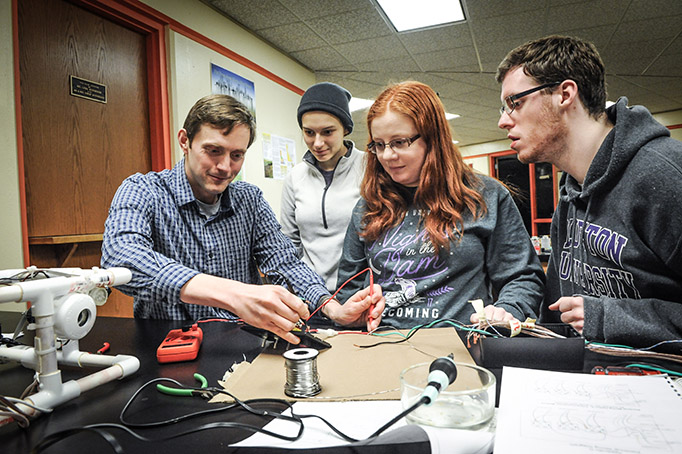 Engineering might be the career for you. Pre-engineering at Bluffton will allow you to explore, or prepare, for an engineering career in a liberal arts environment, while providing the opportunity to pursue other interests.
Pre-engineering majors at Bluffton will take a blend of courses from our mathematics and physics departments, focusing on the courses most suitable for general engineering preparation. Major requirements leave room for a second major, a minor or additional coursework in one of the sciences to prepare for an engineering specialization such as chemical, biomechanical, computer, etc.
>>> Engineering new opportunities - students build ROV
---

OUR STUDENTS:
Before being accepted into the masters in electrical engineering program at Michigan State University, Daniel Piero '17 spent a summer at the Center for Exploration of Energy and Matter through a Research Experience for Undergraduates internship hosted by Indiana University.
"Many of my positive educational experiences can be traced back to Dr. Harnish. I am very grateful to have him as both a professor and friend."
>>> Daniel's story
---

OUR PROGRAM AIMS TO PREPARE STUDENTS TO:
Graduate from Bluffton

prepared to enroll in an accredited engineering program.


Following completion of a bachelor's degree at Bluffton students have pursued a master's or Ph.D. at an engineering school. We endorse this because we believe a liberal arts education is a good foundation for all fields, including engineering.

Although the total program is typically six years (four years at Bluffton followed by two years for a master's degree) it is common to obtain an assistantship at the graduate school. This means tuition, room and board during graduate school is covered by the assistantship. In other words, students "pay" for the master's degree by working for the engineering school as a grader, tutor, lab assistant, etc.

Transfer to an accredited baccalaureate engineering program

after two or three years at Bluffton.



Bluffton

students have

completed

a 3-2 program in which they spend three years at Bluffton followed by two years at an engineering school. They complete two degrees: a bachelor's from Bluffton and a bachelor's in engineering from the other school. This is not an automatic program. Any student interested in this format has to work out the details with both schools.
EXPLORE THE COURSES REQUIRED FOR:
Complete a major in physics in four year with with the following guildlines
Pre-engineering (starting with precalculus), beginning odd year
Pre-med
A pre-medicine major will prepare you for medical school. It combines chemistry, biology and physics courses and is a good plan to follow if you are quite sure about attending medical school. However, upon graduation you will be several courses short of either a biology or chemistry degree. If you then elect not to attend medical school, your employment options are uncertain.
Medical schools do not require a pre-medicine major and most Bluffton students who have entered health professions have majored in biology or chemistry or both.
---
Our students
Justin Kauffman '20, a biology major and recipient of a Summer Discovery Grant, gained vocational experience in the field of dentistry by volunteering at a free community clinic. Kauffman has been interested in dentistry since the eighth grade.
"The grant allowed me to take a break from wage work to spend a plentiful amount of time near the chair and in the rooms. It allowed me to make school loan payments and pay my cost of living while not having an income throughout the experience." >>> Justin's story >>> more about the Summer Discovery Grant
---
Admission to professional schools after college typically requires good performance on an exam such as the Medical College Aptitude Test (MCAT) or the Dental College Aptitude Test (DCAT), a good GPA and good performance in specific chemistry, physics and biology courses. Students who have completed science degrees at Bluffton with GPA of B+ or better have had nearly 100 percent success rates for acceptance into medical schools.
Career options include, but are not limited to:
Medical school
Dentistry
Optometry
Chiropractic
Physical therapy
Occupational therapy
Pharmaceutical research

EXPLORE COURSES REQUIRED FOR

Complete a pre-medicine major in four year with with the following guildlines
THE DR. JOHN KRAFT AWARD

SUPPORT FOR BLUFFTON GRADUATES WHO ATTEND MEDICAL SCHOOL
A university endowment funded by Dr. John Kraft, class of 1958, provides a $5,000 loan/grant to a graduating senior who enrolls in and completes one full year of medical school. This financial support is awarded in the form of a loan that is cancelled upon completion of the first year of medical school. Recipients are chosen by a faculty award selection committee in consultation with the academic dean. Interested students should contact the pre-med program advisor for more information or to apply for this award.
Pre-physical therapy
Physical therapists (PTs) are health care professionals who diagnose and treat individuals of all ages, from newborns to the very oldest, who have medical problems or other health-related conditions that limit their abilities to move and perform functional activities in their daily lives...
PTs examine each individual and develop a plan using treatment techniques to promote the ability to move, reduce pain, restore function, and prevent disability. In addition, PTs work with individuals to prevent the loss of mobility before it occurs by developing fitness- and wellness-oriented programs for healthier and more active lifestyles. (American Physical Therapy Association website)
Physical therapists must earn a doctorate degree and pass a licensure exam before they can practice. A bachelor's degree in pre-physical therapy can prepare you for post-graduate education opportunities.
While admission requirements to physical therapy postgraduate programs differ, Bluffton's pre-physical therapy major, with 56 credit hours in biology, chemistry, mathematics, physics, social sciences and health fitness and sport science, will be a good start. Your advisor will work closely with you to meet all prerequisites for the physical therapy program you choose.
You will also work with the Center for Career and Vocation to obtain 40-60 hours of hands-on experience through volunteer work or observation with a licensed PT. Most doctoral programs require experience and a letter of recommendation from a licensed PT.
Explore the courses required for a
Complete a pre-physical therapy major in four year with with the following guildlines
Science teacher education
Middle childhood education license
The middle childhood license: science concentration is for teaching any science subject in grades 4-9.
The middle childhood license requires concentration in two areas. Many students choose a science and math combination because there is some overlap in requirements, but science can also be combined with language arts or social studies. Middle childhood teachers are not required to complete a science major; rather, they complete a middle childhood education degree from the education department.
To obtain this license the student completes:
a major in middle childhood education
specific coursework for a concentration in science
specific coursework for a concentration in another area
field experience including student teaching

If the student chooses this major early and follows the recommended program, this license (including student teaching) can be completed in four academic years. For more information: visit the education department or browse the course descriptions.


Alternative Pathway to Education
With the completion of the education studies minor, you will have completed course requirements for the Intensive Pedagogical Program and be eligible to teach for four years while completing the Professional Development Institute en route to professional licensure.
More about the alternative pathway to licensure