STEM Scholarships
04/04/2022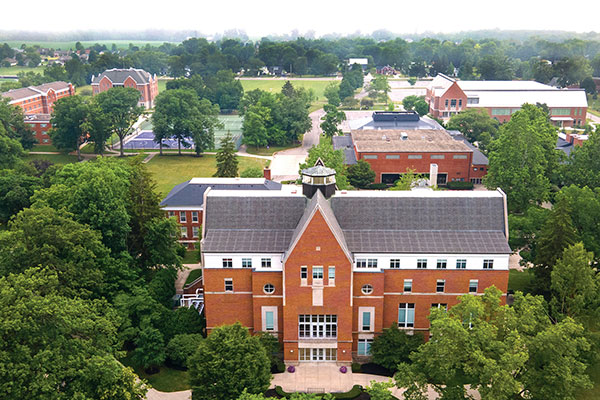 University awarded STATE funding
Bluffton University has been awarded a Choose Ohio First (COF) grant by the Ohio Department of Higher Education to support students in critical STEM fields.
The five-year $138,600 grant will support undergraduate students majoring in food and nutrition, dietetics, nursing, speech-language pathology and audiology, biology, chemistry and pre-medicine. The grant was approved by the State Controlling Board today.
Majors selected include long-established programs with experienced teaching faculty as well as majors that are in demand both regionally and across the state. The grant also supports Bluffton's strategic planning vision to expand health sciences programming.
"Bluffton University is grateful to the Ohio Department of Higher Education for the generous support for quality in-state higher education," said Dr. Jane Wood, president of Bluffton University. "This funding will be put to excellent use in educating lower income students."
Bluffton's goal is to enroll four new Choose Ohio First Scholars each year of the grant with COF scholarships matched dollar-for-dollar by Bluffton through institutional scholarships. Overall, a cohort of 12 students will be named COF scholars by the end of the grant period who will benefit from enhanced financial and academic support to earn their degrees.
"Bluffton's health science programs are our highest sought-after programs for applicants," said Robin Bowlus, vice president of advancement and enrollment management. "Bluffton is excited for the possibilities the Choose Ohio First grant will offer and is ready to enroll and support additional underrepresented student populations in STEM fields."
Students eligible for the scholarship must be:
Applied and admitted as a first-year student
Enrolled full time
U.S. and Ohio resident and graduate of an Ohio high school
Enrolled in an approved program through Bluffton University
Pell grant eligible through the Free Application for Federal Student Aid
This is the first time Bluffton University has been awarded a Choose Ohio First grant. Provided by the State of Ohio to bolster a workforce trained in STEM areas, the grants are intended to strengthen the state's economy.