Tyson Goings
---
"My ultimate goal is to create a family atmosphere with the students I work with, so they're comfortable and want to stay, and go on to be the productive citizens we know they can become."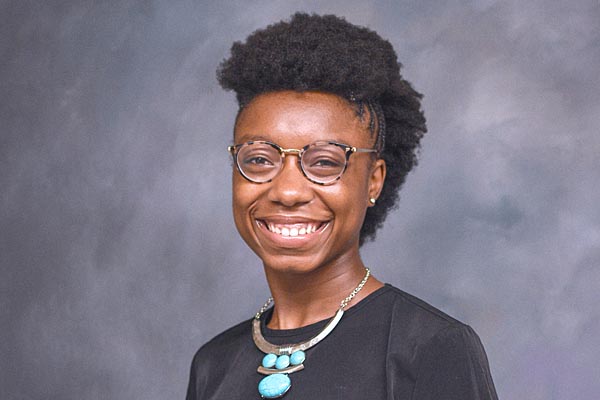 Leslie Beasley
---
Leslie Beasley, a recent Bluffton University graduate, has returned to campus to serve as a graduate assistant in Multicultural Affairs.
Multicultural Student Development
Multicultural Student Development Center
The Multicultural Student Development Center was established in the early 1970s to promote academic and personal growth and development of minority and international students enrolled at Bluffton University.
To promote the involvement and Development of all students
Multicultural Student Development...
promotes understanding and sensitivity to the values of a diverse college community
seeks to address the unique needs of under-represented groups within the student body
educates the college community about the changing profile of our student body
promotes leadership development of students of color through education, experience and involvement
Services
We seek to provide the Bluffton University student community with:
Counseling: academic and personal
Meeting place and study space for students
Provide informational referrals for students
Act as a liaison for students
Celebrates diversity through programming
Resource Center
Visit us
CENTER HOURS:
Monday — Friday; 9 a.m. — 10 p.m.
LOCATION:
The Multicultural Student Development Center is located in the Hirschy Breezeway.
A SPACE FOR YOU
The center has couches and computers. The space can be used for meetings, socials, movie nights or a study space. Drop by the center to clear your activity(ies) with the director.
PROGRAMMING
Programming within the center is conducted by various student organizations.
RESOURCE LIBRARY
The Multicultural Student Development Center offers a wide variety of books, dvds and other literature surrounding the topic of the center. Feel free to drop by and explore the materials for your classes, leisure or research.
ONLINE RESOURCES
---
Program H.O.M.E. (Hope, Opportunity, Mentorship and Education) matches incoming students of color with upper class mentors to help new students become better oriented into the Bluffton community.