Current Students

Sunday Morning Worship at the Labyrinth.
Campus News and updates
Casino Night:
A chance to dress up, play casino games, win prizes and dance. At Bluffton Golf Club from 8-11 p.m. Saturday Jan. 28. Use the student passcode to purchase tickets.
President's Ambassador program:
Assist in recruting prospective students, welcome guests, and engage with alumni, donors and President Wood at special events. Paid position flexible with schedule. Application deadline is 11 p.m. Friday, Jan. 20, and you will need a mentor to fill out a recommendation form.
Becoming a Scholar mentor application:
If you are interested in being a mentor to new students on campus the application process is now open. Students with at least sophomore status by fall 2023 can apply before spring break.
Shalom Project
An intentional community of young adults who affect social change through lives of service. Participants live together in Lancaster (PA) City and serve in professional internships. Early application deadline is February 15, which guarantees a response by March 1. Apply online at

Apply — The Shalom Project (shalomlancaster.org)
Vandalism and security camera:
Experiencing an increase in vandalism incidents last fall in residents halls, one camera will be installed in a residence hall. If you have questions, please speak with your R.A.
Tech center updates:
Check out @blufftontechcenter on Instagram to stay up to date with fun events we will have this semester.
Student employment:
Jobs are available for students on campus! Reviewing open positions and applying is easy through My Bluffton. From the "Student" tab, click "Learn and Earn" in the left margin. The page includes helpful information on the application process and work agreements!

Featured position:
Music Student Assistant
Average 4 hours a week in Yoder Recital Hall and Mosiman Hall. Requires some flexibility as it can entail evening and weekend work, including music department concerts which are typically on Sundays.

Student Engagement Assistant
Assistant will work the Marbeck Desk, Mailroom and evening and weekend support. Submit applications or reach out to Michael Bryan.

We Are Beavers All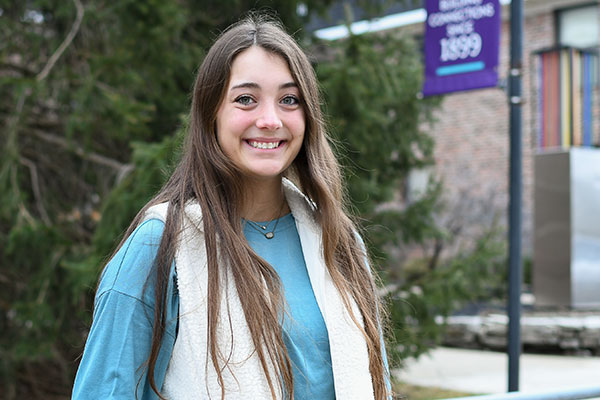 Kaylie Campbell '23
"I have always been interested in the human mind. When I originally came in undecided, I took Introduction to Psychology and became even more interested in it," said Kaylie Campbell '23, a psychology major from Camden, Ohio.
Campbell gained experience during an internship with Preble County Mental Health and Recovery Board.