Current Students
Campus events for this week and next!
Indoor Track and Field, Jan. 14: 4 p.m. at Defiance
Karaoke and Froyo, Jan. 14: 8 p.m., Bob's Place
Swim and Dive, Jan. 15: 1 p.m. at Manchester
Women's Basketball, Jan. 15: 2 p.m. at Franklin
Men's Basketball, Jan. 15: 4 p.m. at Franklin
New Year's Beav Bash, Jan. 15: 8:30-10:30 p.m., Bob's Place
Forum, Jan. 18: 11 a.m., Yoder Recital Hall
Life Hacks Series #1, Jan. 18: 7 p.m., Stutzman Lecture Hall
Women's Basketball, Jan. 18: 7:30 p.m. Vs. Manchester
News and updates from the campus community
COVID Policy Changes: Masks are REQUIRED in Sommer Center at all times, which is a change from Bluffton's previous policy.

New Year's Beav Bash: On Saturday, Jan. 15, we will be having an event in Bob's Place from 8:30-10:30 p.m. called "New Year's Beav Bash." We will have a DJ, food, giveaways and a photo booth. Students are encouraged to wear semi-formal attire and come and party. We will have a balloon drop at 10 p.m. to commemorate the new year and new semester.
Application for 2022-23 President's Ambassador Program Open: The President's Ambassador program is part of the university marketing office and assists in recruiting prospective students, welcomes guests to campus, and engages with alumni, donors and President Wood at special events. This is a paid position and is flexible with your schedules. The application deadline is 11 p.m. Friday, Jan. 21. The application is online. You will also need one campus mentor (faculty/staff person, coach, supervisor, etc.) to fill out a recommendation form on your behalf. Send any questions to Claire Clay at clayc@bluffton.edu

Nursing Accreditation Notice: This message serves to notify our students, faculty and communities of interest that the Bluffton University RN-BSN Nursing program will be hosting a virtual evaluation of the baccalaureate degree program in nursing with the Collegiate Commission on Nursing Education (CCNE) on March 28-30, 2022. Written comments will be received by CCNE until 21 days before the scheduled evaluation. Comments should be written in English which is consistent with CCNE's policy on Conduct of Business in English. Third-party comments must be received by CCNE by March 7, 2022.

Symptom Reporting and COVID-19 Testing: If you don't feel well, you can report your symptoms using the Campus Shield app. Student Health Center staff will contact you and help direct you to appropriate care. If your symptoms are suggestive of COVID-19, you can have a rapid test done on campus in the Student Health Center for $10 during their regular hours. COVID-19 testing will be available in the Student Health Center for symptomatic students until the supply of tests is exhausted.
Parking permit: If you will need a new parking permit for the spring semester, please email Amber Wineland at studentlife@bluffton.edu
We Are Beavers All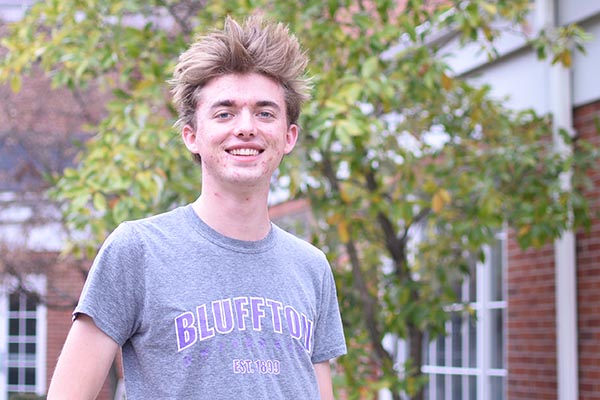 Kayden Cordell '23 always knew he was going to be a teacher. The occupation simply runs in his family.
"My mom is a kindergarten teacher, my dad is a 6th grade history teacher, one aunt is an English teacher in Guatemala and another aunt teaches fourth grade," explained Cordell of Marysville, Ohio. "My grandparents on both sides are retired, but they were also teachers."