CHECK THE:
Faculty and staff
Students and faculty gather in new and familiar places for class.
CAMPUS EVENTS FOR THIS WEEK AND NEXT!
Indoor Track and Field, Jan. 14:

4 p.m. at Defiance
Women's Basketball, Jan. 15:

2 p.m. at Franklin
Men's Basketball, Jan. 15:

4 p.m. at Franklin
Forum, Jan. 18:

11 a.m., Yoder Recital Hall
Women's Basketball, Jan. 19:

7:30 p.m. vs. Manchester
Men's Basketball, Jan. 19: 7:30 p.m. at Manchester
Updates From Our Campus Community
COVID Policy Changes: Masks are REQUIRED in Sommer Center at all times, which is a change from Bluffton's previous policy.

The Big Reveal: Find out at the Big Reveal on Saturday, Jan. 22, between the women's and men's basketball games. Also, mascots from years past will gather in Sommer Center for a Beaver Alumni Reunion that day to celebrate J. Denny's 10 (plus one) anniversary.

Duplicating Services Update: University Print Shop services are now available. Duplicating requests can be sent to the print shop at PrintShop@bluffton.edu. This account is monitored by the university's Print Associate, Janine Paul.

Vote for Bluffton University as Best in Cincy Business: Bluffton University is a finalist in the 2022 Best in Cincy Business Magazine in the education category. Voting is now open, so please vote for Bluffton University's MBA program!

2022-23 C. Henry Smith Peace Lectureship: The C. Henry Smith Peace Lectureship is interpreted broadly to include related media through which the peace witness can be communicated, such as drama, story and visual art as well as a more formal lecture. The lectureship should highlight a distinctive Anabaptist peace perspective. The deadline for completed application submission is Monday, Feb. 7, 2022.

Mental Health First Aid training: We are pleased to be able to offer an opportunity for Mental Health First Aid training for all faculty and staff. It teaches how to identify, understand and respond to signs of mental illness and substance use disorders. This training provides skills to reach out and provide initial support to someone who may be developing a mental health issue and help connect them to the appropriate care. The Mental Health First Aid curriculum will include a 2 hour, self-paced online course followed by an in person on campus session that can be taken on either Sunday, Feb. 20 or Feb. 27.
FACULTY/STAFF ACHIEVEMENTS
The latest LeVar Burton Reads podcast features LeVar Burton reading a story from Tobias Buckell's short story collection "Shoggoths in Traffic."
Gerald Mast published a chapter on "Nonviolence: Anabaptism Against the Sword" in a new reference volume—T&T Clark Handbook of Anabaptism.
The periodical Mennonite Family History included an excerpt from Gerald Mast's recently published book Remembering Anabaptist Ancestors in the January 2022 issue, under the title "Martha Weaver: Giving Bread and Receiving a Basket
Perry Bush delivered a speech at a pro-democracy rally in Lima on Thursday, Jan. 6.
Robin Bowlus presented at the AICUO Communicators' Conference on Wednesday, Jan. 5, as part of a panel with the topic titled: "Admission and Enrollment: New Strategies Used to Meet or Exceed Fall 2021 Goals."
The athletic department full-time staff participated in OneTeam Training on Dec. 16. The NCAA OneTeam program relates to the involvement of the NCAA and Division II in LGBT! The program aims to help teach common LGBTQ terms, definitions, and concepts while identifying strategies and best practices for individuals and department staff to create a climate of respect and inclusion.
Get to know Bluffton's faculty, staff and students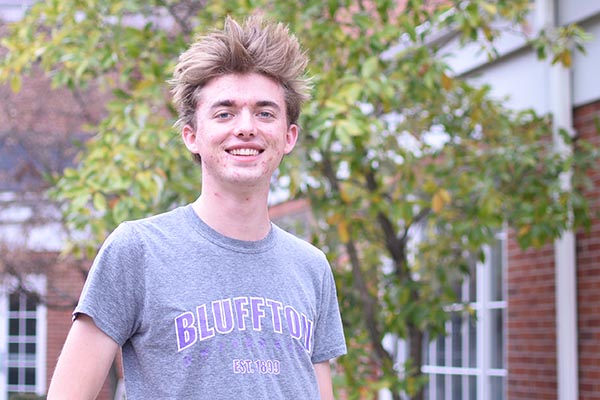 Kayden Cordell '23 always knew he was going to be a teacher. The occupation simply runs in his family.
"My mom is a kindergarten teacher, my dad is a 6th grade history teacher, one aunt is an English teacher in Guatemala and another aunt teaches fourth grade," explained Cordell of Marysville, Ohio. "My grandparents on both sides are retired, but they were also teachers."