CHECK THE:
Faculty and staff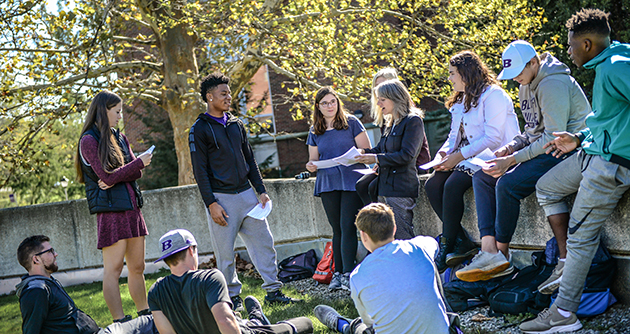 Students and faculty gather in new and familiar places for class.
CAMPUS EVENTS FOR THIS WEEK AND NEXT!
Updates From Our Campus Community
Design Your Life Training

A "Design Your Life" training session will be offered on Monday, Aug. 15, from 9 a.m. to 3 p.m. in Centennial 113 and lunch will be provided. The session will be led by Marathana Prothro. If you are interested in attending, please be in touch with Randy Keeler at

keelerr@bluffton.edu

Fitness Center Hours in May

The fitness center will be open for use M-F from 11 a.m. to 1 p.m. and 4-6 p.m. The fitness center will be closed on Memorial Day.

Campus Bookstore Hours

Summer bookstore hours are 10 a.m. to 2 p.m. Monday through Friday.

Sustainability Promotion

Interested in promoting sustainability on Bluffton campus? There is space for another faculty or staff person to participate in the upcoming Mennonite Sustainability Summit for Higher Education, Aug. 5-7, 2022 at Eastern Mennonite University, Harrisonburg, Va., with travel, lodging, and meals covered by the Center for Sustainable Climate Solutions. Email Jonathan Andreas if you have questions.

Faculty and Staff Retreat – Save the date!
Faculty and staff are asked to attend the 2022 Faculty and Staff Retreat which will be held Tuesday, Aug. 16.
Changes in our campus community
Rachel Mummert

will be joining the Academic Affairs staff as assistant registrar. Rachel is a 2008 graduate of Bluffton University with a major in communication.

April Sybert, donor relations manager in the advancement division, has resigned to take another position. Her last day will be May 31
Garrett O'Reilly has been hired in a temporary, part-time role to cover the gift entry and data entry work in the advancement area until we are able to fill this position long term. He will work primarily in the afternoons, as needed, in the Development Office lobby work station
Autumn Graves will be the new contact for data list pulls for mailings, etc. from EX for development, alumni and PR. She will also become the "Advancement IT expert" for EX.
Ezra Dietering, a current junior and President's Ambassador, has been hired in a temporary, full-time role as "interim alumni relations and annual fund manager." He will work M-F 8 a.m.-5 p.m. in the Development Office on the first floor.
Faculty/staff achievements
Kathleen Aufderhaar attended the 2022 conference of the Ohio Valley Group of Technical Services Librarians in Bloomington, Ind., May 11-13.

Jeff Gundy, who was recently appointed co-editor of the Journal of Mennonite Writing with Ann Hostetler, wrote the introduction to the newly released issue (Vol. 14.1), and an appreciative response to Coffin Honey, a new book of poems by Todd Davis.
Community Corner
Help a Recent Grad
On May 14, the family of recent graduate Tayvin Tyler lost their home in a devastating housefire. The family is safe, and no injuries were reported, but they lost almost everything.

Please consider signing the e-card at this link:

https://www.groupgreeting.com/sign/a760bda28aeeff9

Email Kevin White

for more information on how you can help support the Tyler Family in this trying time.
Get to know Bluffton's faculty, staff and students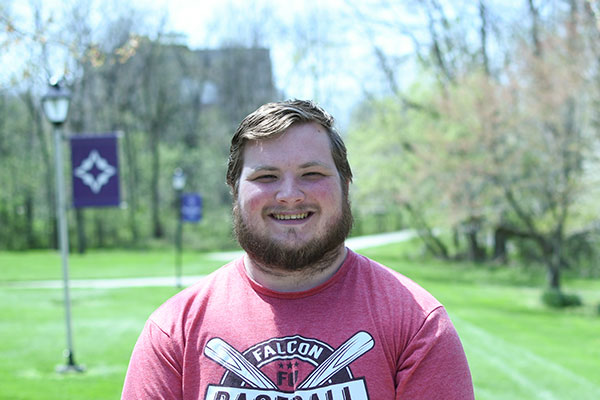 Hunter McCafferty '23, a primary P-5 education major and coaching minor from Bremen, Ohio, juggled his studies while also playing offensive line for the Beavers football team and performing in Bluffton theatre productions during the 2021-22 academic year.