CHECK THE:
Faculty and staff
Students and faculty gather in new and familiar places for class.
CAMPUS EVENTS FOR THIS WEEK AND NEXT!
Beaver Tail-Gating, Oct. 23:

10 a.m.
Football, Oct. 23:

1:30 p.m. vs Hanover
Swimming and Diving, Oct. 23:

a

t Asbury
Women's Soccer, Oct. 23:

1 p.m. at Rose-Hulman
Men's Soccer, Oct. 23:

3 p.m. at Rose-Hulman
Volleyball, Oct. 24:

2 p.m. at Rose-Hulman
Fall Instrumental Concert, Oct. 24:

2:30 p.m., Yoder Recital Hall
Ultimate Frisbee, Oct. 25:

4 p.m., Library Field
Forum (2 options), Oct. 25:

11 a.m., Stutzman Lecture Hall & Yoder Recital Hall
Women's Soccer, Oct. 27: 3:30 p.m. vs Manchester
Ultimate Frisbee, Oct. 27: 4 p.m., Library Field
Men's Soccer, Oct. 27: 7:30 p.m. at Manchester
Volleyball, Oct. 27: 6:30 p.m. vs Defiance
Updates From Our Campus Community
Open House at The Lion and Lamb Peace Arts Center: Come celebrate the 35th year of promoting peace and justice, cultural understanding and nonviolence. 1:30-4:30 p.m. Friday, Oct. 22.
Drive-thru spaghetti dinner: St. John's United Church of Christ is hosting a drive-thru spaghetti dinner on Friday, Oct. 29, from 4:30-6:30 p.m. The cost is by freewill offering, and the proceeds will be used for outreach programs. The church is located at the corner of Jackson Street and College Avenue.

Campus Store Manager Position Re-Opening: Our campus store management partner, has reposted the Bluffton store manager position. If you are aware of any qualified individuals who might be interested in this full-time opportunity, please encourage them to click here for more information or to apply.

Best in Ohio Business Award: Bluffton University was recently awarded the 2021 Best in Ohio Business Graduate School Program award!
2021-22 Plus Committee: Please contact the Plus Committee with any concerns about students: frequent missed class or missed assignments, consistent low grades, missed attendance or underperformance in campus jobs, or a negative change in behavior or attitude.
Changes in our campus community
Mike Hummer will be returning to his position on the IT staff here, managing our Jenzabar database and web portal. Mike's work touches many offices as he helps us use Jenzabar effectively.
FACULTY/STAFF ACHIEVEMENTS
Heidi Mercer participated in the Findlay-Hancock County Public Library's Human Library on Oct. 16. The Human Library seeks to engage our community in conversation by providing a non-judgmental environment for people to speak one-on-one with those they might otherwise never have a chance to talk with. These interactions help to build a better understanding of each other as human beings through conversation and engagement. Heidi's book was an intersectionality of her social work career and identifying with the LGBTQ+ population.
Through The Lion and Lamb Peace Arts Center, Louise Matthews provided fifty-two programs this semester on campus and in-school sessions. Audiences included 1340+ children, students, and adults from Bluffton Elementary, Bluffton Middle School, Liberty Art Magnet School in Lima, Allen East Elementary and High School, Bluffton University, First Mennonite Church and Andrew's House of Hope. The Lion and Lamb is listed in the recently published book highlighting international peace centers and museums.
Perry Bush had an article published: "'We Have Them Whipped Here": Lynching and the Rule of Law in Lima, Ohio," Ohio History 128: 2 (Fall, 2021): 7-41.
Tobias S. Buckell's short story "Scar Tissue" (originally published in Slate Magazine as part of their collaboration with Arizona State University's Future Tense initiative) has been reprinted in The Year's Best African Speculative Fiction, featuring voices from Africa and the diaspora, edited by Oghenechovwe Donald Ekpeki. It was also reprinted in The Best Science Fiction of the Year, edited by Neil Clarke.
Tobias S. Buckell's short story "The Universe Reef" was translated into Romanian for Helion Magazine.
The B.U.R.C. grant funded documentary, "Activismo: Art & Dissidence in Cuba," directed and produced by Carole Elchert and Philip Sugden, has been accepted into its third and fourth international film festivals at The North Dakota International Human Rights Film Festival and The London Art Film Festival, to be shown this Fall.
Get to know Bluffton's faculty, staff and students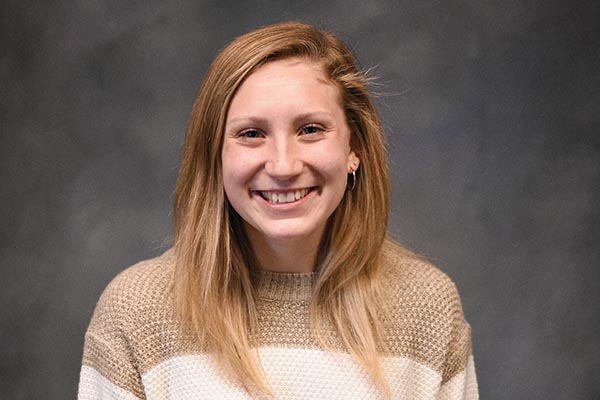 Meet Caitlyn Renner '23, a speech-language pathology and audiology major, is a member of Bluffton's Chapter of NSSLHA, is a tutor in the Learning Resource Center and is a President's Ambassador.
"I chose Bluffton because it felt like a home to me, and I loved how welcoming everyone was. I also really liked how small the class sizes were and how I would be able to have a one-on-one connection with my professors."