CHECK THE:
Faculty and staff
Students and faculty gather in new and familiar places for class.
Updates From Our Campus Community
Juneteenth: Juneteenth (also known as Freedom Day, Jubilee Day, Liberation Day, and Emancipation Day) is a holiday celebrating the emancipation of enslaved people in the United States.

Although Juneteenth is not a national holiday, beginning in 2021 Bluffton University will recognize it as a paid holiday for employees. This year, Juneteenth will be observed on Monday, June 21.

Bookstore Update: Tree of Life Bookstores is rebranding their company and products under the name Slingshot. Our understanding is that services and access processes will remain the same. Additionally, the Textbook Butler program will also now be called Slingshot (https://www.slingshotedu.com/our-solutions/). You may find their press release here. (https://www.slingshotedu.com/2021/04/26/ed-tech-company-slingshot-makes-a-splash-in-higher-education/) Please contact our campus store manager, Janine Paul, with any detail questions.

HR Updates: Annual reviews are due by June 30, 2021. If you have any questions please contact your Supervisor. Also, Annual Insurance Open Enrollment is open for all Faculty and Staff with an FTE of at least .75. Open Enrollment ends May 21, 2021. If you have any questions please contact jordant@bluffton.edu.

Free books I have a number of copies of Colin Beavan's No Impact Man in my office. If anyone would like one they are free for the taking. I also have a couple of copies of The Geography of Bliss that are free to the first who respond.- Randy Keeler

Forum Topic Suggestions: As we plan to return to an in-person weekly Forum this Fall, the Forum committee is working on creating more opportunities for interactive workshop experiences in Forum. Consequently we plan to offer at least one "Resilience Workshop" each month as an option. We will rely, at least initially, on Bluffton faculty and staff to lead these workshops. Please consider whether there is a workshop that you would like to lead. Please send your ideas for workshop programs—led either by you or someone else you'd like to suggest—to Gerald Mast.

Library adds streaming movie collection: Musselman Library has added "Feature Films For Education" – a database of 690 full-length feature films – to its collection of online resources. Find Academy Award nominees, animated films, drama, comedy, science fiction, action movies, classic films and more. Free for Bluffton University until May 2022.

Business Transformation program opportunities for students: This summer, the Center for Career and Vocation has partnered with our friends at Denison University to offer our students free programming to provide students with skills, experience and a deeper understanding of specific areas of interest. Choose from Marketing, Sales, Finance, Data Analytics and Design Thinking for Business Transformation programs. . Each program offers either a credential or certification that students can add to their resume or LinkedIn profile.
Honoring Our Service milestones
The thought that I started working on the web when it was still relatively new is mind blowing. Me, a communication major who had taken just one computer class - ever. And that class worked with punch cards and a huge, white machine in the Berky Hall computer lab. It's a testament to the value of a liberal arts degree!
I have to thank former director Ron Geiser for bringing me back to Bluffton and Art Shelly for opening the door to my current role in PR. I've appreciated the never-ending opportunities of working in a small PR office, such as having the opportunity to edit the magazine, collaborate on marketing, design publications, work with photographers and videographers... It is so true that "Team work, makes the Dream work."
Throughout it all, I've appreciated the support, the opportunities and the fellowship from so many - from PR colleagues, directors, cabinet members and folks from all across campus.
It's Always a Great Day to Be a Beaver!
Sara Kisseberth
Web content manager
FACULTY/STAFF ACHIEVEMENTS
Robin Bowlus, vice president of advancement and enrollment management, participated in the Gates Foundation COVID and Enrollment Study administered by USC Rossier Center for Enrollment Research, Policy and Practice on Wednesday, May 19, 2020.
Heidi Mercer

has been awarded her Licensed Independent Social Worker certificate through the Ohio Counselor, Social Worker & Marriage and Family Therapist Board after completing 150 clinical hours over 2 years and passing the clinical exam in April.

Philip Sugden, assistant professor of studio art, will be having a solo exhibition of his recent artwork at the Fisher Gallery at the Marathon Center for the Performing Arts in Findlay, opening to the public on May 7 and running through May and June. The exhibit title is, "Inland Empire." The gallery is open everyday to the public from noon to 4 p.m. This exhibit is part of the MCPA "Wall of Fame" induction that Phil received two-years ago.
Changes in our campus community
Brie Sprunger, incoming assistant professor of marketing, will serve as director of the MBA program beginning in the fall. We appreciate her willingness to step into this role. Our thanks to Jason Swartzlander for carrying forward this work during the spring semester and summer.
Sydney Buffenbarger, accounts payable and financial aid office, will become the new assistant to the treasurer for Waynesfield Goshen School system. Her last day on campus was Friday, May 14. We appreciate Sydney's return to her alma mater and time as a staff member at Bluffton. The Business Office will be engaging a temporary worker to manage the day to day in accounts payable and the Financial Aid offices plan to return to a half-time position.
community corner
Dryer for sale. Amanda brand. Asking $350, but willing to accept offers. Contact Amber Smith, student life coordinator, for details at smitha@bluffton.edu
We Are Beavers All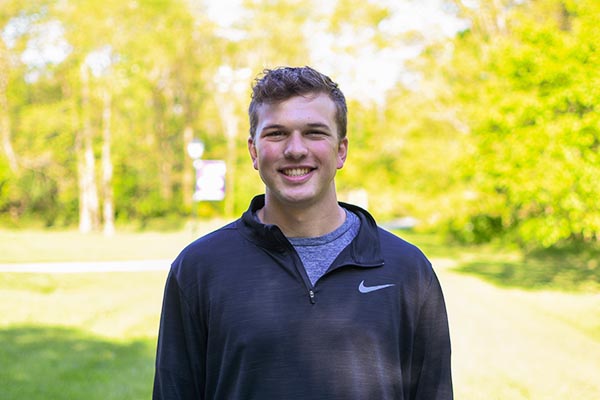 A mathematics/business administration major from Columbus, Ohio, DeWeese plays baseball, attends SAAC meetings and works in admissions.
"I have great relationships with all my professors and coaches. They frequently check in with me and push me out of my comfort zone."