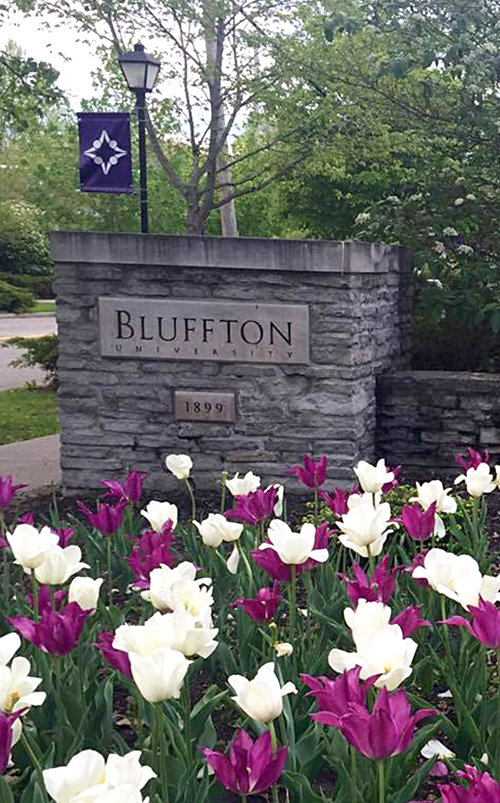 Employment
You are invited to join the Bluffton University family.
Bluffton is committed to advancing diversity, equity and inclusion in higher education. We strive to actualize this vision by assisting individuals of all backgrounds to identify meaningful professional opportunities and by facilitating equitable hiring practices and inclusive cultures. We want all faculty and staff to feel valued, appreciated and free to be who they are at work.
At Bluffton, you will find a place where all gifts are valued and all faculty and staff are given the opportunity to grow. Here you will find a faith community and a place of learning.
FACULTY VACANCIES
Adjunct instructor in English
M'della Moon Endowed Chair in Botany and Environmental Science
Assistant professor of music and marching band director
STAFF VACANCIES
Corporate and external relations director
Assistant athletic trainer
Head swim and dive coach
Esports coordinator
Musselman Library access services coordinator
Bus driver
Advancement services director
Admissions counselor
Custodial services associate

GRADUATE ASSISTANTS/INTERNS
Student entrepreneurial businesses
Assistant women's soccer coach
Lion and Lamb Peace Arts Center
Men's & women's golf/residence life
UNDERGRADUATE STUDENT EMPLOYMENT
at Bluffton is called the Learn and Earn Program.
Available student jobs on campus
Employment decisions are based on merit and university needs, and not on race, color, national origin, ancestry, sex, age, disability, marital status, sexual orientation, gender identity or any other status protected by law. As a religious institution, Bluffton University expressly reserves its rights to appoint faculty and staff who share a commitment to the Christian faith which is consistent with the Mennonite/Anabaptist beliefs of the university's founding and supporting church. EOE.