---
Check out progress on the Austin E. Knowlton Science Center which is anticipated to open in 2023.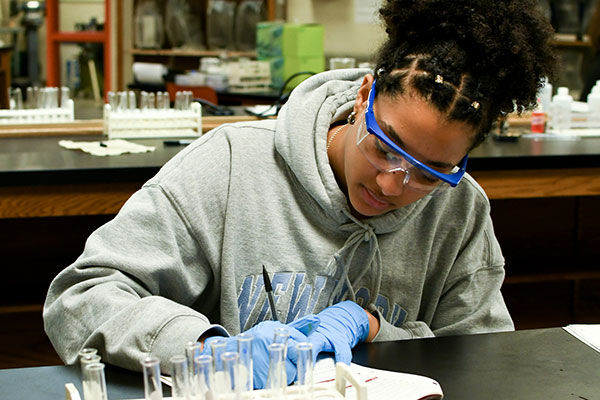 ---
Grants of $3,000 are available to students who are Ohio residents and a female or ethnic minority in STEM, or a male in nursing. Must be accepted to Bluffton University by Dec. 1.
Science
solving problems creatively
Are you always asking "Why?" "How does that work?" "Would it work better if…?"
At Bluffton, your professors will encourage you to ask questions. And to discover answers. Bluffton's science programs feature hands-on curriculum, active student organizations and one-on-one assistance obtaining relevant research experiences.
Why Bluffton?
The Knowlton Science Center, featuring teaching labs for chemistry, biology, nutrition and dietetics, is expected to open in fall 2023.
Science students pursue widely varying interests and activities including athletics and music.
Be challenged in an intimate yet intense learning environment.
Bluffton students have interned at the Cleveland Clinic and the National Institute of Health.


Majors and Minors
With dedicated Ph.D professors personally invested in the individual success of each student, Bluffton science majors are prepared for advanced study and a variety of career paths.
Bluffton also offers majors in the health sciences of nursing, dietetics and speech-language pathology and audiology.


Biology major/minor
Take a broad range of courses focusing on cellular and molecular biology, genetics, microbes, invertebrates, plants and humans as a Bluffton biology student. Independent study/research opportunities exist at the Bluffton University Nature Preserve and the Little Riley Creek which flows through campus.
A major in biology will serve as a basis for entering fields such as teaching, environmental biologist, medical professions and agriculture.
---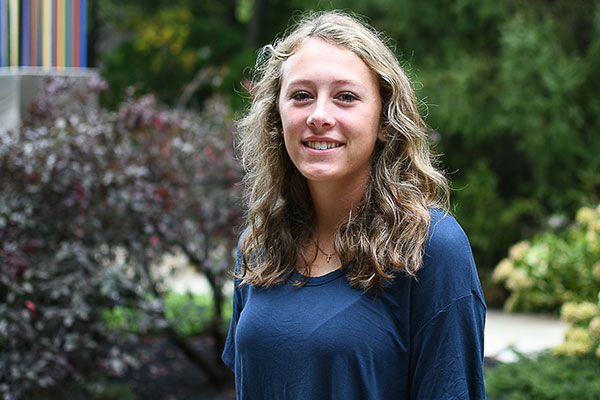 A $1,500 Summer Discovery Grant allowed biology major Shelby Stammen to shadow dentists in the Lima area.
"To apply to dental school, you need at least 100 hours (shadowing). "
Shelby's story
EXPLORE COURSES REQUIRED FOR
a major in biology
a minor in biology
Complete a major in biology in four year with the following guidelines.
Chemistry major/minor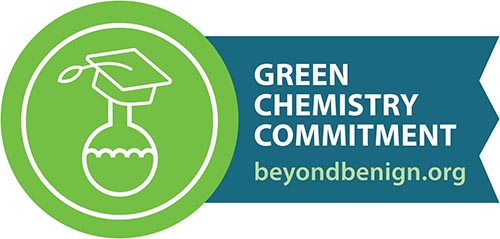 Requirements for Bluffton's chemistry major closely follows the guidelines set by the American Chemical Society and includes a strong emphasis in the core areas of chemistry: analytical, inorganic, organic and physical chemistry.
Bluffton signed Beyond Benign's Green Chemistry Commitment in 2019. A technique high in demand by the chemical industry, green chemistry seeks to on minimize toxicity of materials and reduce waste in chemical processes.
Work with a faculty member to gain hands-on experience. Former students have worked on several ongoing environmental-chemistry projects and analytical/instrumentation projects.
A Bluffton chemistry degree is a good foundation for graduate work leading to a career in chemical engineering.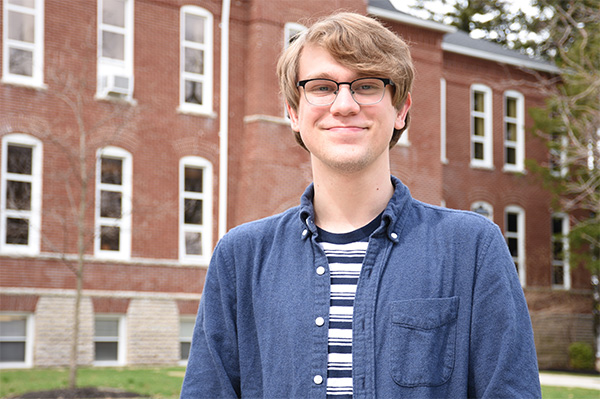 Ethan Zaerr '20, a chemistry and physics double major with a minor in education, is taking a unique approach to pursue his career ambitions.
"I hope I will be able to put myself in a position where I can help students become the best versions of themselves." >> Ethan's story
Medical Laboratory Science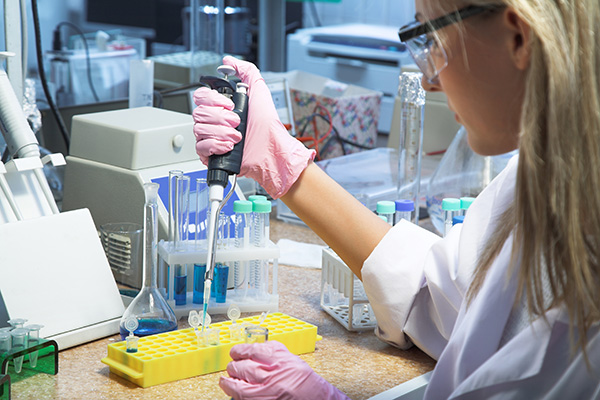 Prepare for a career as a scientist who conducts and reads medical tests in hematology, microbiology, immunology, pathology and blood/urine/body fluid chemistry with a major in Medical Laboratory Science.
The Medical Laboratory Science (MLS) program is offered in coordination with the West Central Ohio Medical Laboratory Science Program. From 2018-2021 WCOMLS program had a 100 percent graduation rate and 100 percent placement rate.
Medical Laboratory Science is a growing field. Occupational outlook >
Physics
As a physics major, you will receive core preparation in physics, as well as complementary training in mathematics, chemistry and computer science. Physics, mathematics and computer science students often work closely together for research, classroom projects and outreach opportunities.
A Bluffton physics degree is a good foundation for graduate work leading to a career in engineering.
>>>career opportunities in physics
April Horton, a physics major, traveled to Hawaii for a summer internship at the Institute for Astronomy at the University of Hawaii.
>> April's story
EXPLORE THE COURSES REQUIRED FOR:
a physics major
Complete a major in physics in four year with the following guidelines.

Pre-engineering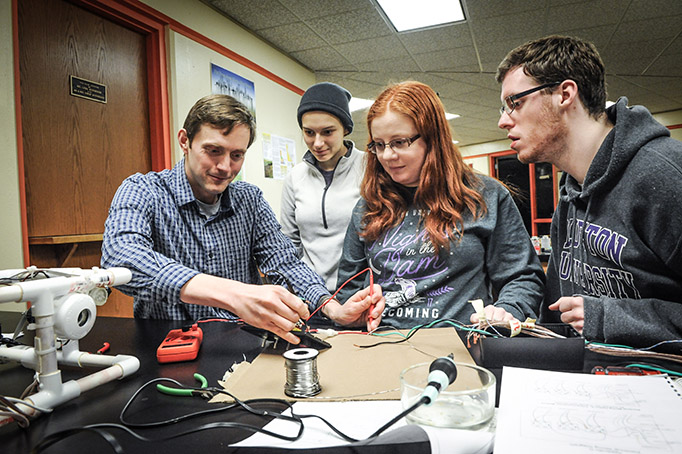 Gain the skills to creatively solve real-world problems. Pre-engineering majors at Bluffton will take a blend of courses from the mathematics and physics departments. Major requirements leave room for a second major, a minor or additional coursework to prepare for an engineering specialization such as chemical, biomechanical, computer, etc.
>>> Engineering new opportunities - students build ROV
Before being accepted into the masters in electrical engineering program at Michigan State University, Daniel Piero spent a summer at the Center for Exploration of Energy and Matter undergraduate internship, hosted by Indiana University.
"Many of my positive educational experiences can be traced back to Dr. Harnish. I am very grateful to have him as both a professor and friend."
>> Daniel's story
Graduate from Bluffton prepared to enroll in an accredited engineering program.
Following completion of a bachelor's degree at Bluffton students have pursued a master's or Ph.D. at an engineering school. We endorse this because we believe a liberal arts education is a good foundation for all fields, including engineering.
Although the total program is typically six years (four years at Bluffton followed by two years for a master's degree) it is common to obtain an assistantship for graduate school. This means tuition, room and board during graduate school is covered by the assistantship. In other words, students "pay" for the master's degree by working for the engineering school as a grader, tutor, lab assistant, etc.
Transfer to an accredited baccalaureate engineering program after two or three years at Bluffton.
Bluffton students have completed a 3-2 program in which they spend three years at Bluffton followed by two years at an engineering school. They complete two degrees: a bachelor's from Bluffton and a bachelor's in engineering from the other school. This is not an automatic program. Any student interested in this format must work out the details with both schools.
Students who want to explore the fields of engineering and strengthen the math and science skill sets that they may not have been exposed to in high school
Students who want to double major in the sciences to have a broader academic profile to prepare for graduate school
Student-athletes who want to prepare for the engineering profession while still being a college athlete
EXPLORE THE COURSES REQUIRED FOR:
a pre-engineering major
Complete a major in pre-engineering in four year with the following guidelines.

Pre-medicine
A pre-medicine major will prepare you for medical school with a combination of chemistry, biology and physics courses. However, medical schools do not require a pre-medicine major. Most Bluffton graduates who have entered health professions have majored in biology, chemistry or both.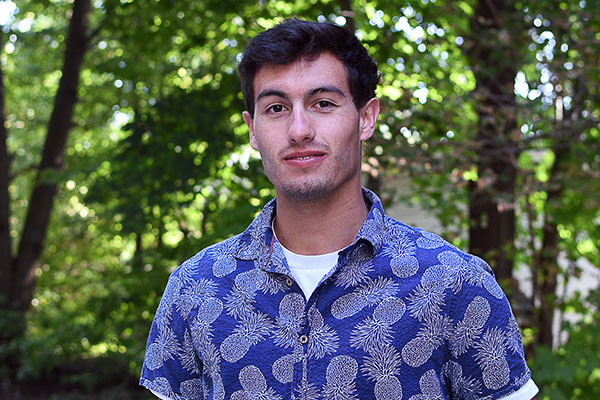 Ethan Ly, a pre-medicine and biology double major from Celina, Ohio, gained experience as a scribe at Lima Memorial Health System and Joint Township District Memorial Hospital. While entry-level work, he got to work inside patients' rooms and alongside doctors in the ER.
Ethan's story
EXPLORE THE COURSES REQUIRED FOR:
a pre-medicine major
Complete a major in pre-medicine in four year with the following guidelines.

Pre-physical therapy
Physical therapists help people maintain or regain the ability to move and perform daily functional activities. A pre-physical therapy major, a combination of biology, chemistry, math, physics and psychology courses, provides a firm foundation for advanced studies. Physical therapists must earn a doctorate degree and pass a licensure exam to practice.
Science teacher education
Excite the next generation of scientists as middle or high school science teacher. You may select a science concentration as a middle childhood education major. To teach in the high school, you would complete a degree in the sciences with an education studies minor.
The middle childhood license with a science concentration is for teaching any science subject in grades 4-9.
The middle childhood license requires concentration in two areas. Many students choose a science and math combination because there is some overlap in requirements, but science can also be combined with language arts or social studies. Middle childhood teachers are not required to complete a science major; rather, they complete a middle childhood education degree from the education department
Alternative Pathway to Education Licensure
Teach science in grades 7-12
In addition to a major in the sciences, complete an education studies minor. With this minor, you will have completed requirements for the Intensive Pedagogical Program and be eligible to teach for four years. You must then complete the Professional Development Institute to earn a professional licensure.
More about the alternative pathway to licensure