---
Student jobs on campus are the ultimate Win-Win situation. You gain much needed experience, support, CASH… Faculty and staff gain needed assistance.
Learn and Earn program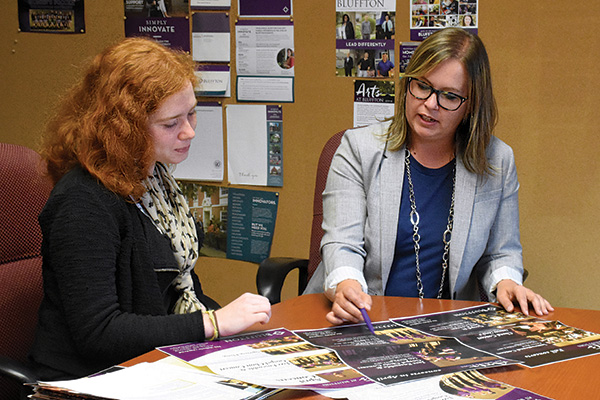 Student employees are a valuable asset to the Bluffton community. Through the Learn & Earn program students may gain work experience in their area of academic study, identify career objectives, gain transferable skills that can be useful in a variety of careers and earn a paycheck.
Recognized for excellence by Student Loan Report
The Student Loan Report highlighted Bluffton University for it's participation in the Federal Work-Study (FWS) program. In 2017, Bluffton University ranked 78 out of over 400 private schools who offered FWS jobs to students.
This means that your school offered some of the best opportunities for students to work, learn and earn during school compared to the rest of the country.

This report analyzes the average Federal Work-Study compensation at hundreds of private, 4-year universities and colleges. The data is licensed from Peterson's Financial Aid data set which is comprised of self-reported data by the colleges for the academic year 2015-2016.
Campus jobs open to all students
Any traditional undergraduate student attending Bluffton University is eligible to work in the Learn & Earn program. Eligibility for a campus job is included in most financial aid awards., however this does not guarantee a campus position. To be considered for campus employment, students must submit a Learn & Earn application.
Student jobs range from 2 to 10 hours per week depending on the type of job. First-year students earn minimum wage. Paychecks are issued on the 15th of each month for time worked the previous month. Direct deposit into a personal bank account is an option.
Student worker training sessions are offered each semester by the campus jobs office and the Center for Career and Vocation. Student workers are encouraged to attend and are paid for a one hour session. Topics presented have included teamwork, customer service, skill building, diversity, credit reports, identity theft, budgeting/money flow and educational/career choices.
There are forms that must be completed before a student will be permitted to work. These forms must be completed and returned along with appropriate, acceptable identification, to the business office receptionist located in the lower level of College Hall.
Contact us if you have questions about the Learn & Earn Program.