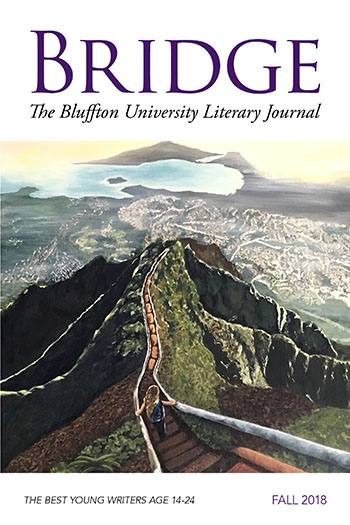 Fall 2018

EDITOR'S NOTE:
The Mystery of Faith
Themes seem to rise to the surface naturally in the process of curating Bridge: The Bluffton University Literary Journal, and the Fall 2018 issue is no exception. Watching these unifying concerns emerge in the production process is like seeing a chick hatch. First, a trembling fissure appears in the orb. An unsettling crack ebbs outward. A bright orange beak emerges. Tiny pink talons claw the air...and then wonder ensues: a tender ball of feathers tumbles forth, blinking at the bright light and cawing to be fed.
And so it goes with Bridge. The contributing artists in our Fall 2018 issue grapple with mystery and faith and conscience. In St. Paul's first epistle to Timothy, he exhorts congregants, "They must hold to the mystery of the faith with a clear conscience." What a wonderful standard for life, and literature. In compiling Bridge, we encountered mystery, faith and wonder in every story, poem, memoir, drama, comic and fine arts piece that the student editorial team selected.
Gird yourselves, gentle readers, for an adventure of mystery, wonder, faith and conscience as our writers and artists explore these tensions in kitchens, foster homes, church camps, dystopian fables, flowers, love, earthworks, ghost ships, funerals, migrations, grief, nunneries, deer stands, airports and even a powder room. Regardless of your faith walk, what mystifies you or what weighs on your conscience, the work in this issue of Bridge are all acts of faith. Faith in the enduring power of the world to mystify us. Faith in the enduring power of art and literature to enrich and broaden our understanding of what it means to be human.
As I reflect on this issue of Bridge, it strikes me what mystery and faith it takes to hatch things- chickens, ducklings, poems, art. The sense of wonder never fails to awe and mystify us. Thanks for reading and believing in the young writers and artists whose work appears in Bridge.
Jamie Lyn Smith, Editor
Bridge: The Bluffton University Literary Journal
BRIDGE Fall 2018 team
Art & layout editor: Cara Echols
Managing editor: Dani Easterday
Student editorial associates:
Drama - Dani Easterday, Skyler Wilson
Fiction – Cameron Miller, Shanon Gallagher, Emily Rush, Ben Weaver
Nonfiction - Cara Echols, Alissa Hauke, Kathryn Roth, Skyler Wilson
Poetry - Alissa Hauke, Ruthann Stuckey, Cara Echols
Editor: Jamie Lyn Smith