By Toni Hooker
WE ARE

We leave parts of ourselves in the world around us and
Surround
Ourselves in affection as the atmosphere holds us close. Then we fill our hearts with
Passion,
Deep and forever growing, in the way that canyons are. When we grow we become the
Monumental
Creatures we were meant to be.
Building
Above sadistic skyscrapers and handsome huts. However, they
Explode
Into smoke and ash, destroying what we made to fit our brains.
Complex.
But we still hold life in the mysterious depths of our wombs
Carrying
Seeds for gentle flowers and great trees we'll love like no other. We'll want them to
Reach,
Beyond the sky, to what the stars have to offer. Go to a
Dangerous
Infinity to explore and
Change,
Like the phases of the moon. Not only the world, but ourselves as well.
Shine
What light we know is brighter on what will always be dark. So we can
Evolve
How we think and realize we are the same as this universe.
Limitless.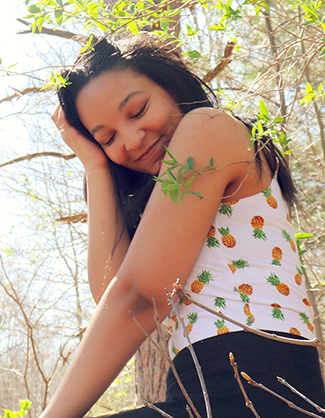 TONI HOOKER
is a biracial female writer from Swanton, Ohio, who wants to be a lawyer. She feels that poetry is the most intimate thing you can share with people because of its openness to interpretation; she loves feeling that connection.