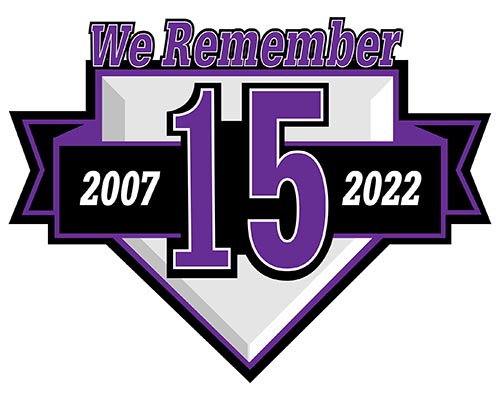 We remember 3-2-2007
On March 2, 2007, the Bluffton baseball team experienced an accident that forever changed the lives of the players, coaches, their family and friends and the Bluffton campus community. While traveling to Sarasota, Fla., the baseball team's charter bus fell from an overpass in Atlanta, Ga., killing student-athletes David Betts (Bryan, Ohio); Scott Harmon (Lima, Ohio); Cody Holp (Arcanum, Ohio) and Tyler Williams (Lima, Ohio); and the bus driver and his wife. Twenty-eight others were injured. Student-athlete Zachary Arend (Oakwood, Ohio) died one week later.
That single moment changed lives. But from that moment, a sea of moments arose. Hundreds of thousands of moments when complete strangers lent a helping hand. Moments when friends, family and community members gathered to lean on one another. Moments when the Bluffton baseball players, coaches and campus community realized that an entire world outside of Bluffton was supporting them, praying for them, wishing them well.
These words were penned for the Bluffton magazine one year after the accident. They remain words that are no less true now than they were in 2007.
Bus accident points in time

March 2. 2007


March 2007



March 12. 2007



Never forgotten –
In an instant, lives were forever changed, and a team and institution were catapulted into the spotlight. The night of the accident, the Bluffton campus community gathered for a candlelight prayer vigil in Founders Hall. It was a time for reflection and mourning.




A community comes together – The Kiva and Gallery Lounge were transformed into a makeshift memorial as items of sympathy and messages of support poured in from people across the world. Many items are preserved in the university archives.

Memorial service –
Junior Ryan Baightel lights a candle on the Founders Hall stage during the March 12 memorial service. One lit candle was placed on the stage for each person who died. Nearly 2,500 individuals attended the service. Photos from March 2007


April 2007



May 2007



July 2007



First game –
On March 30, in front of about 2,000 fans, the team took to the field to begin a shortened season. The Beavers lost 10-5 against Mount St. Joseph but scored one run each in memory of Zachary, David,Scott, Cody and Tyler.

Major League Baseball presents $50,000 to
Memorial Field Project –
Joe Garagiola Jr., vice president of MLB
baseball operations at the time, presented President Harder with a $50,000 gift for the Memorial Field Project during the final home game of the 2007 season

Team connects through baseball –
Over the course of the summer, the 2007 team was invited to visit the Cleveland Indians, Cincinnati Reds and the Detroit Tigers. The team also traveled to Omaha, Neb., to be recognized at the College World Series.


August 2007



December 2007



March 2, 2008


Memorial Field
construction begins –
The campus memorial included three
components: The baseball diamond was formally named Bluffton University Memorial Field, the Circle of Remembrance and Touching Home, a
sculpture by the late Gregg Luginbuhl,
professor of art.

Making "Touching Home" – Players made a handprint in the sculpture by Luginbuhl. Five footprints, taken from the actual cleats of
Zachary, David, Scott, Cody and Tyler,
represent the impact they had at Bluffton.

One year later –
On March 2, 2008, the Beavers played the opening game they were unable to play in 2007 against Eastern Mennonite University at Sarasota Christian High School. "We spent our week in Florida doing what we went down there to do: play baseball," said Coach Grandey.


January 2010



February 2011



March 2012


NCAA Inspiration Award –
The award is presented "to a coach, administrator or athlete who, when
confronted with a life-altering situation, showed perseverance, dedication and determination and now serves as a role model to give hope and inspiration to
others."

Baseball Vs. Cancer –Since 2011, the team has raised more than $50,000 for childhood cancer research by shaving their heads. The tradition allows Bluffton baseball to give back to the community, say thank you to those who responded in 2007 and pass blessings to others in crisis.

Five-year remembrance –
More than 150 people gathered for the fifth anniversary of the accident. President Harder said the Circle of Remembrance "speaks profoundly to the many visitors, and now a new generation of Bluffton students, who are inspired by the story it conveys."


February 2017



March 2, 2017


Induction into the Bluffton Athletics Hall of Fame –
The entire 2007 team was recognized in their first year of eligibility for their remarkable courage and strength in responding to the March 2, 2007, accident. Nearly 300 people were in
attendance during the Feb. 18 ceremony.

10-year memorial –
Members of the campus community gathered to reflect, remember and move forward. Faculty and staff maintained a continuous 12-hour presence at the Circle of Remembrance on March 2, 2017, starting at 5:30 a.m. (the approximate time of the accident).