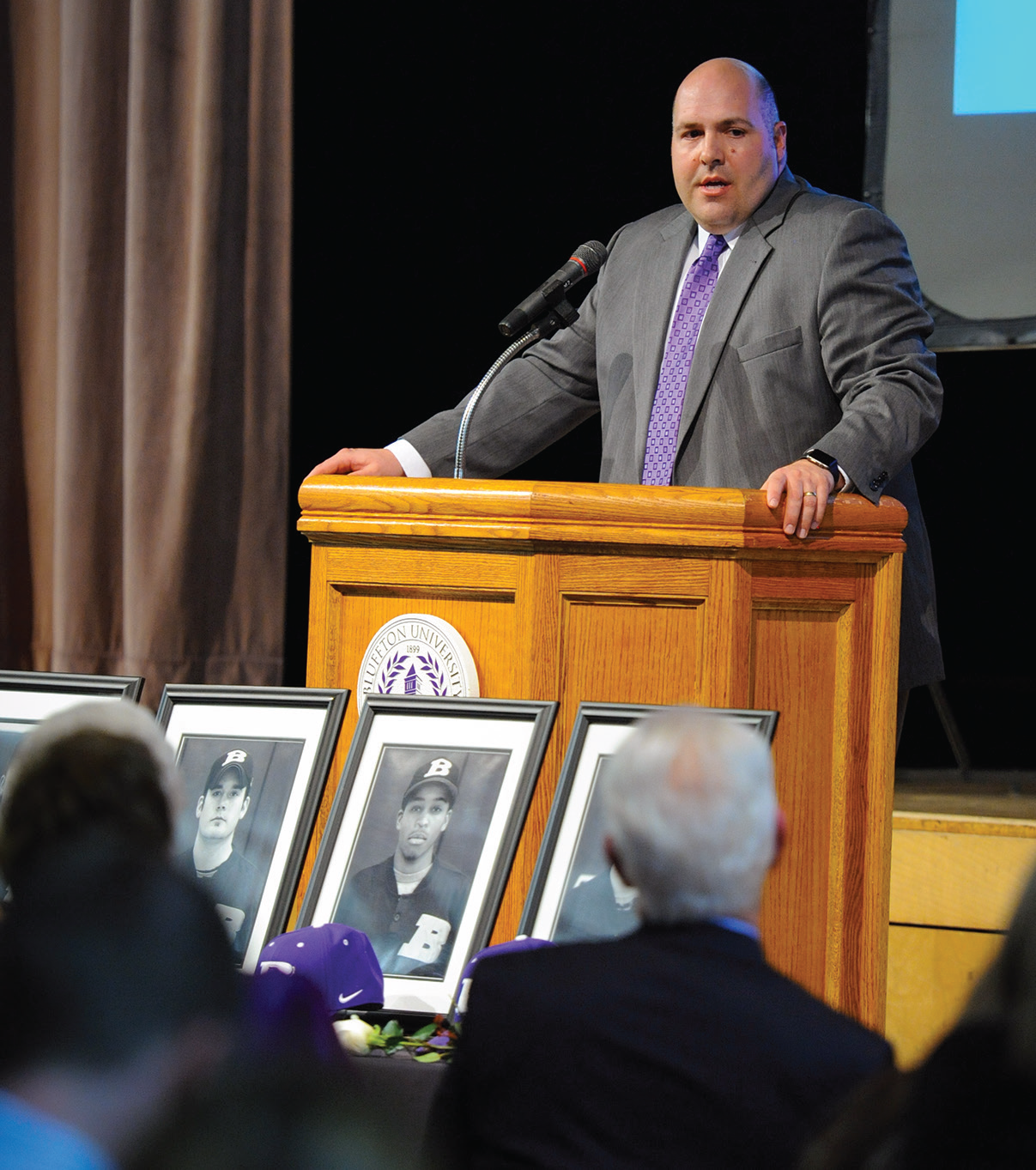 A Community That Touches Home
"You did not choose this road, but you traveled it as well as could ever have been imagined under the circumstances. Your profound and memorable journey—the tears and the accomplishments— during the 2007 baseball season and beyond, is being recognized and honored this evening."

With these words, Bluffton University President James Harder summed up the 2017 Athletics Hall of Fame induction ceremony for the 2007 Bluffton University baseball team.

Nearly 300 people were in attendance during the Feb. 18 ceremony in Bluffton's Founders Hall. The team was unanimously selected for induction in their first year of eligibility due to their remarkable courage and strength in responding to the March 2, 2007, accident in in Atlanta, Ga., when the team's charter bus fell from an overpass on their way to spring training. Five student-athletes were killed: Zachary Arend (Oakwood, Ohio); David Betts (Bryan, Ohio); Scott Harmon (Elida, Ohio); Cody Holp (Verona, Ohio); and Tyler Williams (Lima, Ohio); along with the bus driver and his wife. Twenty-eight others were injured including James Grandey, head coach.
President Harder presented each coach and player with a plaque as they were inducted into the Hall of Fame. The families of Zachary, David, Scott, Cody, and Tyler accepted for their sons.
"It was an honor to represent the Atlanta Fire Rescue Department and all of the people of Atlanta that came together to support Bluffton in your time of need. In the fire service, we very seldom get to see positive outcomes in these situations. Once we close the ambulance doors, we generally don't get to follow-up.

With Bluffton, I feel a connection to the team, these families and the entire Bluffton community. Never before, and not since, have I felt
such a connection. I continue to feel I have seven angels looking out for me every time I come on duty."
- Captain Keith Schumacher
EMS supervisor, Atlanta Fire Rescue

Grandey, who remains as Bluffton's head baseball coach, spoke on the team's behalf and presented each inductee with a Hall of Fame pin. "Those of us directly involved in the accident still manage our emotions, fears and pain on a daily basis. I've always had a hard time describing my personal feelings in regards to our tragedy," said Grandey. "However, words are not lost to describe how proud I am of this group of men. You have all moved forward against circumstances that are unimaginable. If life teaches us anything it is that no matter how unfair, how cruel, how painful or how crushing a loss we are given, we must go forward. Life does not stop."
Grandey continued his remarks by explaining that the team began the often painful road forward by completing the 2007 baseball season. The team continued to move forward by reuniting at the ceremony. Many players brought their growing families with them.

"I am proud to address this group of men and catch up with them to hear all they have accomplished and what they are doing with their lives, the families they are building, and to see the relationships they still have with their teammates. And I will always remember Zachary, David, Cody, Scott and Tyler," said Grandey.
"I watched some of my former students during the cermony. During some points, I observed grief, and we all have our own stories and feelings from 10 years ago that remain with us today, but I was also surprised to witness the joy that is now filling their lives."
- Dr. Stephen Harnish
Professor of mathematics

Grandey continued that he is proud to bring new recruits to the Circle of Remembrance memorial and to explain to them what it means to play baseball at Bluffton. The memorial includes the handprints of each of the team's players and coaches and the cleat imprints of the five players who passed away. Inscribed is Exodus 19:4, "I have carried you on eagles' wings and brought you to myself."
Many members of the 2017 baseball team attended the induction ceremony. The current team, in honor of the 2007 team, will wear black jerseys with a special patch throughout the season. The patch was designed by a current baseball player and reads "We Remember 10 years 2007-2017." Grandey had an extra set of embroidered patches made for each of the 2007 players.
Grandey concluded his remarks by saying, "Thanks again to all of you who supported us beyond measure and thank you to the 2007 team for allowing me to be your coach."
The team had been recognized in 2010 by the NCAA with the Inspiration Award, presented "to a coach, administrator or athlete who, when confronted with a life-altering situation, showed perseverance, dedication and determination and now serves as a role model to give hope and inspiration to others."
The team was the first team to be honored by the NCAA with this award and was recognized for its courage in returning to the baseball field only 28 days after the fatal bus crash. Of the 25 surviving student-athletes who were on the bus, 24 graduated. One left the university in 2008 to play minor-league baseball.

Transportation laws were also strengthened following the crash. The Motorcoach Enhanced Safety Act introduced by Sen. Sherrod Brown (D-Ohio) became law in 2012, and it was announced among other things, the legislation will require lap and shoulder belts in all
new motorcoaches beginning in November 2016. It also requires stricter qualifications for drivers and more stringent vehicle inspections.
In 2014, Advocates for Highway and Auto Safety, a national non-profit advocacy organization, recognized the 2007 team and families with its Highway Safety Hero Award for leadership and determination to enhance motor coach safety. John and Joy Betts, parents
of David Betts attended the awards ceremony in Washington, D.C., and accepted the award.
President Harder concluded his remarks with the words of team member Tim Berta, "The lesson I take from the 2007 baseball team is this: Regardless of the challenges ahead of you or the odds stacked against you do not quit. I remember each of the lives of Zachary, David, Scott, Cody and Tyler by doing my best to live my life to honor them and what they meant to everyone."
"As my teammates and I walk to practice, we take a lap around the Circle of Remembrance. We glide our fingers across the imprints or simply tap home plate.

We take on this daily ritual to say to Zachary, David, Scott, Cody, Tyler and the 2007 team, 'We remember. We remember you played our position. We remember you wore our number. We remember you are our teammates. We remember why we play this game.'"
– Austin Every, pitcher on the 2017 team