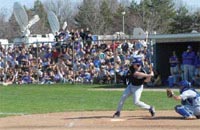 Reclaiming the season
Not many would have thought twice had the players simply said, "No." Few would have questioned them had their diamond remained empty this spring. Four weeks after the bus accident, on the afternoon of March 30, everyone standing on and outside the diamond realized that they were a part of something special when the Bluffton University baseball team took the field for its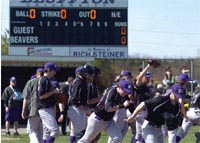 first game of the season - a season that symbolized both healing and hope. Not playing had never really been a part of the equation - only when.
That "when" involved a number of administrative considerations and decisions. The team had been through the unimaginable. All were visibly shaken, many were injured and most of player's equipment, uniforms and other belongings had been rendered useless by the accident. How would the equipment be replaced? Were there enough healthy players to field a team? Would the coaches be healthy enough to lead? Would there be enough practice time? Most importantly, would the players want to play?
Ballplayers play ball
When the players returned to campus after spring break on March 12, they began meeting every day with Phill Talavinia, athletics director, and Guy Neal, head men's basketball coach. They listened to updates about their teammates and coaches still hospitalized and discussed whether they wanted to have a season. "In those first days in Atlanta, we decided the players would help us make the decision to play," says Talavinia. "If they wanted to play, it would be an easy decision. And if they didn't want to play, it would still be an easy decision."
The players wanted to play. They would play for their teammates who would never play again and for themselves because that is what ballplayers do; they play ball. A variety of sports companies and organizations offered to outfit the team with new gear. Pacific Headwear offered ball caps; Nike wanted to provide new uniforms. Team Sports and Wilson Sporting Goods offered to donate equipment as did three professional baseball teams - the Cleveland Indians, the Cincinnati Reds and the Florida Marlins.
In the mean time, Bluffton's coaches and players continued making strides off the field, both physically and mentally. Head coach James Grandey, whose injuries limited his mobility, was determined to join his team as soon as possible. With equipment replaced and assistant coaches Todd Miller and Jason Moore taking cues from Coach Grandey, the team began practicing on March 19. "It was so good to hear the cracks of bats again," says Talavinia.
The following day, with the young men standing behind him, President James M. Harder announced the team would open its season with a home contest against conference-foe College of Mount St. Joseph on March 30. "After consulting with members of the team and their coaches, with Bluffton's athletics department administration and the Heartland Collegiate Athletic Conference of the NCAA, and with the understanding that the bereaved families are in support of our young men returning to the field, I can announce today that there will be a 2007 baseball season at Bluffton University," he said.
More than a regular game day
Ten days later, family, friends and supporters gathered at the Sears Athletic Complex, spreading out blankets and folding chairs to watch the Beavers play ball. By all accounts, the sunny afternoon felt like a regular game day - kids ran around, bratwursts and hotdogs were grilled and people laughed and chatted. Five white banners lining the left-field fence waved in the breeze and reminded all present that from here on out, "regular" would always be a relative term.
In front of more than 1,200 spectators and 100 media outlets, the crowd paused for a moment of prayer and silent reflection led by President Harder. Then, the Beavers ran to their positions, sporting black jerseys in honor of their teammates. Coach Grandey, unable to be in the dugout due to his injuries, established his coaching corner in the press box, advising his assistants and team by walkie talkie.
When junior Tim Kay (Alpharetta, Ga.) threw a strike on the first pitch, the crowd leapt to its feet and erupted in cheers, collectively realizing that baseball was back at Bluffton. The Beavers quickly demonstrated their ability to hit and score runs but were unable to hold onto an early 3-1 lead. Bluffton lost the first game of the three-game weekend series, 10-5.
"It's disappointing to lose," said junior captain Ryan Baightel (Wapakoneta, Ohio) after the home opener. "Any day you want to win, but when a crowd like this comes out, you want to win for them. But, I think it's a win to be back on the field. That's enough." Coach Grandey echoed his captain's sentiments: "The best thing that could've happened to this program at this time is for us to play. We're a Division III school, and yes, the guys are here for an education first, but our 40 guys came here to play baseball too. It's about baseball for them. And it's about healing; they need to get out and do what they love and honor the players we lost."
The next day the team picked up its first win by defeating "the Mount," 7-6. The Beavers played an abbreviated season, making up as many regularly scheduled conference games as weather permitted throughout April and May. The team finished its 2007 season with a 5-19 overall record, including a 4-15 mark in the conference.
Looking to the future
While stepping on the field was an instrumental part of the healing process, baseball teams have an innate drive to win, and Baightel notes that this year's five wins were not nearly as many as the team and coaches would have liked. "Despite the fact that we were constantly encouraged that being on the field was enough and that we should be proud of ourselves for that fact alone, when we are between the lines, we forget all of that, and it's still baseball," he says. "And with that comes the desire to win. Our record this past season was not what any of us hoped for, and we will improve greatly next year."
Next year, the Beavers will play on the newly dedicated Bluffton University Memorial Field, which will receive multiple enhancements this summer thanks to many generous gifts from individuals, colleges and universities, schools, companies and organizations, including a $10,000 gift from the Bluffton University Student Senate, a $12,000 gift from Tiffin University and a $50,000 gift from Major League Baseball (MLB).
With the support of strangers and community alike, future generations of ballplayers and extended community members will remember and draw inspiration from the 2007 team. And, in the words of Joe Garagiola Jr., vice president of MLB baseball operations and son of former catcher and legendary broadcaster Joe Garagiola, "For years to come when kids play on Bluffton's field, they will know people of character were on the field before them."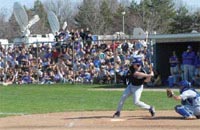 Included Content