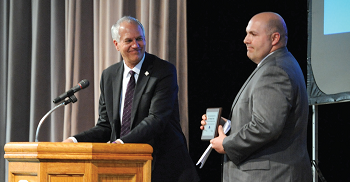 "As members of the Bluffton University community we continue moving forward with energy, hope and faith, believing that the contributions we offer help create a better world."
President's message
The following was penned as the President's Message in the Winter 2017 issue of Bluffton magazine.
As many of you will remember, on March 2, 2007, the Bluffton baseball team experienced an accident that forever changed the lives of the players, coaches, their families and friends, and our campus community.
This year, the Bluffton University Athletics Hall of Fame committee voted unanimously to honor the 2007 team as the sole inductee in their first year of eligibility. All members of the team—including Zachary Arend, David Betts, Scott Harmon, Cody Holp and Tyler Williams— and all managers and coaches were inducted as a team into the Bluffton University Athletics Hall of Fame on Feb. 18. This event, attended by many members of the 2007 team as well as parents and family members of the five players who lost their lives, was a memorable and meaningful event.
We acknowledged the tragedy, loss of life and hardship associated with the 2007 season, but also celebrated the team's remarkable courage in returning to the field and completing their season—an achievement the NCAA recognized by honoring the team with its 2010 Inspiration Award. It was a privilege to present recognition plaques to the individual inductees or their parents and to share the podium with coach James Grandey, who spoke on behalf of the team and shared with all an important and powerful message of hope, resilience and moving forward.
On March 2, the campus community gathered at the A Circle of Remembrance next to Memorial Field for a service of remembrance. We surrounded the late emeritus professor of art Gregg Luginbuhl's inspirational "Touching Home" bronze sculpture—touched with imprints of all members of the 2007 team—and shared moments of silent remembrance for each life lost as a consequence of the accident. We acknowledged our dependence on God's providence. And we reflected on the ways that the entire Bluffton University community, including new friends in Atlanta and beyond, became supportive co-travelers alongside the 2007 baseball team on its difficult road toward healing and recovery.
The events of 2007 and 2017 are important reminders that Bluffton's mission and values endure during times of tragedy and tribulation and times of achievement and celebration. As members of the Bluffton University community we continue moving forward with energy, hope and faith, believing that the contributions we offer help create a better world.
As always, I cannot thank you enough for your ongoing support for Bluffton's mission, programs and students.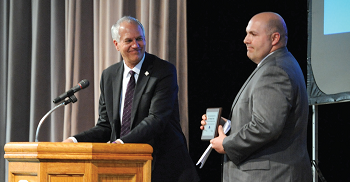 "As members of the Bluffton University community we continue moving forward with energy, hope and faith, believing that the contributions we offer help create a better world."