Service of Remembrance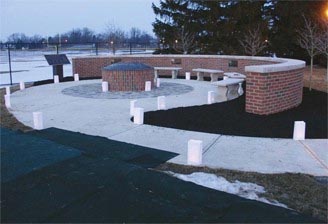 With the snow melting from Bluffton University Memorial Field and sun-drenched skies holding promise of a baseball season to come, more than 1,200 individuals gathered on March 12, 2008, in Founders Hall, for a campus-wide Service of Remembrance to reflect on the lives of Zachary Arend, David Betts, Scott Harmon, Cody Holp and Tyler Williams, and the year that has passed since the accident.
"We gather tonight to acknowledge the pain that we have experienced, but more importantly, to name God's goodness and faithfulness even in the midst of great sorrow," said President Harder, who opened the service and welcomed those in attendance. "This evening we want to reflect on the rich memories that this community will carry forward—good memories of Zachary, David, Scott, Cody and Tyler, who as Bluffton students enjoyed life to the fullest, who each in his own way demonstrated an ethic of care for others, and who each showed so much promise."
A photo remembrance played for the audience, showing the five men with friends and teammates, participating in a sport they loved. Additional photos showed the Beavers returning to the ball diamond one month after the accident. A Reader's Theatre explored themes of life and light and included short stories about each of the five men. The Bluffton University Shining Through ministry team performed the song "Shine on Us," and campus pastor Stephen "Tig" Intagliata shared a meditation.
Intagliata referred to Psalm 63 when David encounters God in the midst of a time of hopelessness and despair, a time David likens to being stranded in a dry and weary land. "In many ways, David's predicament described in this psalm is one we here at Bluffton can identify with as we have gone through this past year, grieving the loss of Zachary, David, Scott, Cody and Tyler," said Intagliata. "But just like David, we have been surrounded by God's love and presence in the midst of our grief. The outpouring of prayers and support is a tangible gesture of God's love shown to us by both friends and strangers. They have brought us comfort and healing."
Intagliata shared that God uses times of suffering and grief to transform us, to shape who we become in the future. "Even personal growth can rise up out of the ashes of despair and pain," he said. "God can use these times of trial to transform us into people who experience God's grace and love in new ways, people who live in deeper gratitude to God for his faithfulness and for the gifts he has given us."
"In their lives here on earth, Zachary, David, Scott, Cody and Tyler were like lights that shone rays of hope into our lives," said Intagliata. "God blessed us through them, by their love, their joy and their passion for life. They left us an enduring legacy. God invites us to trust and believe that he is at work bringing the promise of new life and is slowly planting the seeds of a new spirit within us."
Baseball seniors Ryan Baightel (Wapakoneta, Ohio); Brandon Freytag (Wapakoneta, Ohio); William Gerber (Apple Creek, Ohio); Tim Kay (Alpharetta, Ga.); Jimmy McMonagle (Ida, Mich.); Tony Moore (Elida, Ohio); and Greg Sigg (Maumee, Ohio), along with head coach James Grandey and assistant coach Todd Miller led the gathered community in a closing litany.
Earlier in the day, 300 individuals, including family, friends and members of the 2007 and 2008 baseball teams, gathered at the baseball field for a private ceremony, to share in the formal dedication of the lasting campus memorial, a Circle of Remembrance, for the 2007 team and student-athletes who died.
"Today we gather to formally dedicate this Circle of Remembrance as a special and permanent place of remembrance and reflection," said Dr. Hans Houshower, vice president for advancement. "It has been a work of faith to be part of this process for all involved. Bluffton is deeply grateful for the participation of families, players, coaches and those who cannot be here today in completing the circle."
Composed of a circular-form walkway on a low rise overlooking the baseball field, a limestone-capped brick wall and five benches provide an area for reflection and remembrance as well as a place to watch the Beavers play baseball. Five Crusader Hawthorne trees and five plaques help visitors to remember the special qualities of each student-athlete. The landscaped circle, benches and plaques surround a central pedestal and a five-foot diameter sculpture, "Touching Home," created by faculty-artist Gregg Luginbuhl '71. The sculpture is shaped like a pitchers mound and includes physical imprints by all members of the 2007 team, including the cleats of Arend, Betts, Harmon, Holp and Williams.
Following words of reflection by Luginbuhl, President Harder formally dedicated the memorial: "Today, March 12, 2008, I, James M. Harder, president of Bluffton University, formally dedicate this Circle of Remembrance, in honor of the 2007 baseball team and in memory of Zachary, David, Scott, Cody and Tyler. Bluffton University dedicates this Circle of Remembrance and the centerpiece sculpture, 'Touching Home,' as a permanent place for remembrance and reflection on the Bluffton campus."
Those in attendance were invited to spend time in the circle along with the 2007 team members. The Circle of Remembrance is the third component of a lasting campus memorial for the 2007 baseball team. The other components include the naming of Bluffton University Memorial Field and a number of field enhancements.