Reflections
by Kathy Dickson '03
Envelopes.
Postmarked in towns and cities I've never heard of and
those much more known.
Envelopes, full of letters, cards, poems and pictures.
E-mails—hundreds and hundreds of e-mails.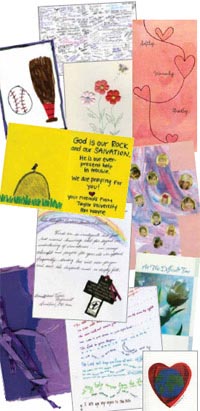 From parents who had lost a child tragically;
From college presidents, athletics teams and coaches;
From strangers who had cried never knowing of Bluffton before;
From community members, feeling so close and so helpless;
From children in Lima, Elida, Bluffton...from the
West Coast, the East Coast and Canada;
From a teenager who signed her name with a heart; and
A man in a veteran's home, somewhere in
Pennsylvania—words barely recognizable.
Pages and pages of words.
People. People reaching out, grieving with us.
People reaching out to connect, to lift us up and pray.
She had taken time to tell us she had prayed for us and would continue to do so.
He had taken the time to say, "You are not alone."
They had taken the time to sign, draw, color and create.
In the Kiva, as mail bins became full of these envelopes, as the e-mails from across campus began pouring in, I thought of people. So many people, in so many places, reaching out to us, in different departments and offices all over campus. Sending words.
From small hands learning to write, from hands of college presidents with many degrees. Words of hope and encouragement. Words of love. Words sharing in our sorrow.
"We love you."
"I said a prayer for you this morning."
"We mourn with you; we cry with you; we call on the Lord with you."
"God is with you; He will not leave you.""May God comfort you."
"May God be with you in these coming days."
Words.
And what about things?
Flower baskets, potted plants, poems, songs and CDs;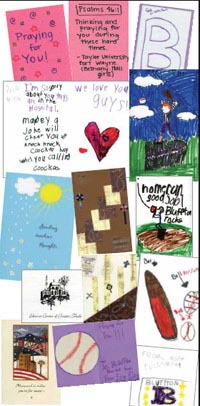 Paper flowers—hundreds; made by little hands;
Paper cranes from a sister institution;
Baseballs. Five of them. Left at the field by boys who had just been to Kids' Night Out.
And teddy bears—hundreds of teddy bears.
Banners—long, paper, cloth, plastic—from universities, classrooms, and teams;
Blankets from a school in Iowa, from churches in Georgia, Ohio and Kansas;
Prayer cloths and prayer shawls. A metal church.
Things.
March 2, it began. And it hasn't stopped. What started as a few flower bouquets became an ebb and flow of plants and flowers and boxes and boxes of envelopes and things.
Beyond the media and their telling of the story—our story—were people.
People responding. Praying. In Ohio, Georgia, Indiana, Pennsylvania, Florida, Kansas, Montana, Iowa, Oregon, California, Oklahoma, Arkansas,
Canada, Romania, Columbia, the Netherlands, Palestine. All over.
A larger community. Grieving with us. Praying with us. Hoping with us.
This is part of a reflection by Kathy Dickson '03, director of career development, shared with Bluffton faculty and staff during a campus-wide meeting on May 8. Kathy worked with many volunteers to create meaningful spaces in both Marbeck Center Kiva and Gallery Lounge that paid tribute to those involved in the March 2 bus accident.