An artist's perspective
Nothing is enough. Nothing could ever be enough—expensive enough, intricate enough, amazing enough, magnificent enough — nothing. I thought this at various times as I labored on the sculpture that we will now all know as "Touching Home."
My involvement in this memorial began in October with a brief conversation with President Harder in my office. He outlined plans for the Circle of Remembrance and discussed ideas for a centerpiece. He talked about an elegance of simplicity, and I promised to do some further thinking.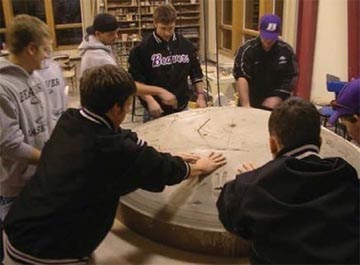 Later that day, I did what all families of student-athletes have done innumerable times — I drove a crazy number of miles to watch my daughter play a sport. I know you have made the same trips. Some say they do it to support their child. I would say that it supports me. It gives me joy and energy to watch my daughter play and compete. So that evening, I watched two hours of soccer, spent five hours on the road and crawled into bed around midnight.
That night, I awoke at 4 a.m. with the seed of an idea. I knew I had to get up and write some things down. The early excitement centered on making a piece that would be interactive and include the team. The idea of footprints on home plate was there, and then the magic started.
A home plate has five sides. A home plate looks like a house. The phrase "touching home" has layers of meaning. I careened around my dark house looking for something large to draw on, finding a scrap of newsprint in the basement. By 7 a.m., I had defined a concept that I was excited about, and that seemed to have the potential to contribute to a healing process. One hour later, I had an energized and synergistic conversation with President Harder that I think both of us will always remember.
Sometimes I doubted that the players would be interested in the idea. But I was re-energized on a December evening when players and coaches gathered to make their mark. Baseball is a game for hands — hands which hold the bat and ball, hands which send signals, hands which congratulate. I invited players to make a hand print that represented their experience of the bus accident. I asked them to limit words and numbers, since the hands themselves would communicate more universally. I think we will never forget gathering around the mound, considering the mark and its placement and watching as others made their lasting impressions in the clay. A few days later, my wife, Karen, and I were honored to make a trip with Jim and Karen Klassen Harder to Ida, Mich., to visit with Tim Berta and his family, and to obtain his handprint in clay for the sculpture.
In the end, "home" in this work references a run-scoring achievement, individual homes and families, Bluffton University as a home for its students and our heavenly home. Players' marks show support for each other, unity, perseverance, and love for each other and for the game that they have all played together. Five footprints, taken from the actual cleats of Zachary, David, Scott, Cody and Tyler represent their many achievements and ultimate success, as well as the impact that they each have had on all of our lives.
I ask all who visit this site to think of rounding the bases as a metaphor for our work, for our lives and especially for our spiritual journeys. Through individual achievement, a hit or a walk, we get on base. We make judgments, decisions and take risks (maybe steal a base), but, by and large, we survive or progress with the help of our coaches and teammates. Sometimes we make it home and celebrate the journey — knowing the joy of our contribution to the team. And then we try to get on base again. "Touching Home" is an end to a journey. And a beginning.
This is an excerpt from the presentation Gregg Luginbuhl made to members of the 2007 and 2008 baseball teams, family and friends gathered for a private dedication of the Circle of Remembrance on March 12, 2008. Bluffton University art students Maegan Rohdes (first-year, Lima, Ohio); Amanda Rohrs (sophomore, Holgate, Ohio); and Brittany Sinnema-Jackson (first-year, Ashland, Ohio) were instrumental in completing "Touching Home."