Fall 2019

Editor's note
Welcome to the Fall 2019 issue of Bridge: The Bluffton University Literary Journal. The works in this issue share a common theme: love. Love that is filial, failed, romantic, secret, fantastic, broken, transactional — regardless of what we name it or how we attempt to classify it, love in its many forms has long preoccupied the human heart, mind, and imagination. The ancient Greeks had scores of words to describe kinds of love. Agape was the unconditional, Mania the obsessive, Philautia the treasuring and care of self. Art is, in and of itself, an act of intersectional love.
Our writers and artists' works of love will take your breath away. Sarah Lao's "Fractal" is a stunning portrait of multiplicity and reflection. Shamon Williams' poetry interrogates both how and how much we really love each other, prompting us to "Ask the strange fruit for their stories/Ask the North Star if tolerance tastes like pennies." In Jessika Bouvier's short story, "Two," a family disintegrates after the foster daughter they wished to adopt is rehomed to her birth family. Coz Frempong's "Big Overthinker" renders the pathos and humor of love in warm, bold strokes. Yoko April Tamada writes that "moments are merely poems/we concoct" in "Have You Ever Been in Love?" while Joanna Acevedo's "Pursuit" reckons with a once-ambivalent infatuation. Love is a weird, fascinating terranium in Eliza Reedy's "Just Add Water" and Adam Zhou lingers in its "Woven Light."
Bridge is in and of itself an act of love, a celebration of richly diverse voices and visions. Bridge was founded three years ago on the premise that arts and letters are a transformative force of agape love. This love for the written word and visual arts will continue at Bridge long after I step down as editor. I am so proud of our contributors and editorial associates' dedication, attention, and talents. I hope these powerful works by young writers and artists quicken and alter and shape your heart, as they have mine.
Jamie Lyn Smith, Editor
Bridge: The Bluffton University Literary Journal


Bridge fall 2019 staff
Cara Echols, Art editor
Dani Easterday, Managing editor
Madison Ament, Submissions manager
Kera Engle, Outreach coordinator
Sam Krizek, Assistant poetry editor
Kathryn Roth, Social media manager
Ben Weaver, Assistant fiction editor
Student editorial associates:
Madison Heckman
Obi Martin
Colten McCabe
Cameron Miller
Alex Rose
Emily Rush
Kameron Singleton
Dale Smith
Skyler Wilson
Jamie Lyn Smith, Editor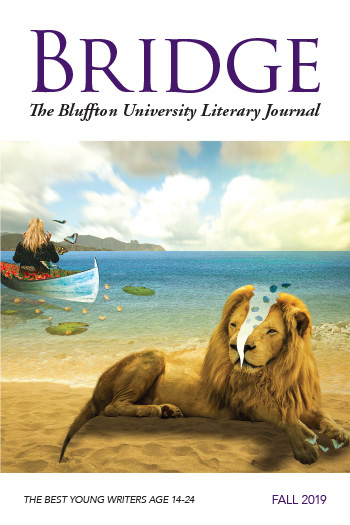 ---
Bluffton University students are instrumental in publishing two annual issues of Bridge: The Bluffton University Literary Journal.