Escape
by Aashna Belenje
Bare skin now cold with the new season
Yet clear skies melt red into the horizon,
I skip over the now crunching leaves as
Fields of orange flowers wave to me as
The wind catches my hair, and I
celebrate.
Trees abundant as far as the eye can see,
A kaleidoscope of colors surround me
I pick scarlet chrysanthemums as tokens
Of this place I will hold in my mind while
I am away. For a few last minutes, I stay
Enveloped by brightness and hues of gold,
Even my cabin radiating warmth here in
My autumn Arcadia.
From poppy field, I gaze at my home,
Ponder leave-taking this haven with tears
For a frenetic city, no stars to wish upon
At night nor scent of pine to awaken me
Anymore. Abandoning my childhood, I
Feel wind gush through my hair, not a
Goodbye, but an until-we-meet-again,
My autumn Arcadia.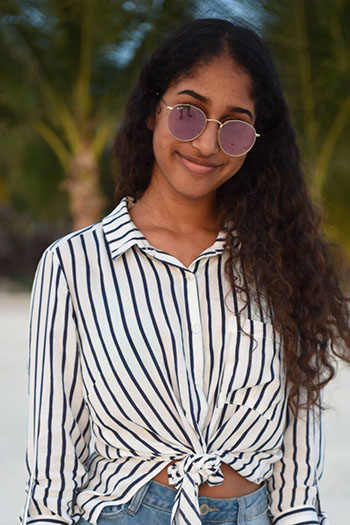 Aashna Belenje
---
Aashna Belenje is a fourth-year student at Poetry Power, a private institute in Silicon Valley dedicated to professional training in poetry. She has had 20 poems published nationwide, won 12 awards, appeared in venues across California by invitation to present her poetry and read for two televised presentations in San Francisco.