Dr. David Yost '83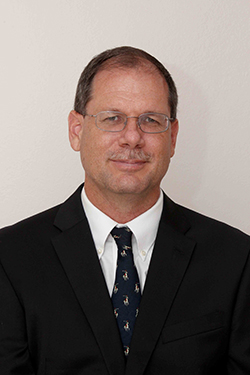 Published in the Bluffton Magazine, Spring 2015
Tracking Ebola in the U.S.
Ebola brought Dr. David Yost back to Ohio last fall.
As the disease spread from West Africa, Yost's employer, the Centers for Disease Control and Prevention (CDC), appointed the 1983 Bluffton graduate to an on-call team of experienced infectious disease experts, charged with addressing potential cases of the virus in the U.S.
In late September, a nurse who had tended to the first Ebola patient in the country, in Dallas, traveled to northeast Ohio to visit her family. "Although she didn't know it at the time, she was later confirmed to have Ebola," Yost notes.
His team worked locally and with the state government to track down 164 of the nurse's contacts in the Akron and Cleveland areas and to prepare local hospitals for potential Ebola patients. Fortunately, however, no additional cases of Ebola were identified, and the nurse survived the infection.
"The region's medical system showed exceptional preparedness," Yost says. "Our team worked intense 16-hour days, and we were very impressed with the dedication and skills of our local Ohio partners."
His work with the Ebola response team was just the most recent example of public health service performed by Yost over the last 25 years.
Once hoping to become a professional musician, the Arizona native wound up with a Bluffton bachelor's degree in biology. He earned his M.D. from the University of Arizona's College of Medicine in 1987 and, over the next three years, completed a residency in family practice while living with his wife, Laura (Kauffman '82), in Tucson, Ariz.
Starting a career
In 1990, the U.S. Public Health Service (USPHS) hired Yost to work with the Indian Health Service (IHS) on the Fort Apache Indian Reservation, where he ultimately served for 22 years.
"While I was with the IHS, I became involved in a number of projects related to the control of infectious diseases in Native Americans," he says. "I saw infectious diseases that many doctors never see in their careers," including tuberculosis, plague and Rocky Mountain spotted fever.
Yost often worked alongside CDC professionals, which motivated him to pursue the master's degree in infectious diseases that he earned from the University of London in 2003. He continued his work with the IHS for nearly 10 more years after that, working with researchers from the CDC to conduct vaccine trials and study infectious diseases.
Serving in Puerto Rico
In early 2012, Yost accepted a position to work directly for the CDC, which is part of the USPHS. The CDC assigned him to the Puerto Rico Department of Health to help construct a control program for tuberculosis, which had recently resurged in the U.S. territory.
Yost now fills many roles there, most prominently as a field medical officer for the CDC's Division of Tuberculosis Elimination. Overseeing 35 employees, he tracks all cases of tuberculosis that occur in or enter Puerto Rico.
Valuable experience
"My first significant exposure to people from other countries came during my years at Bluffton," Yost said. "It was there that I initially began to realize how small the world is that we share. Thirty years later, I am even more appreciative of how closely we are connected to the rest of the world."