Connections
Getting a fast start at Speedway
Bluffton's business program has a long history of undergraduates getting internship placements with the Speedway chain of retail gasoline and convenience stores. Most of the placements resulted in careers for the Bluffton students who served internships with the company. The relationship among the business faculty, students and Speedway has created a strong Bluffton-Speedway alumni network.
A commercial success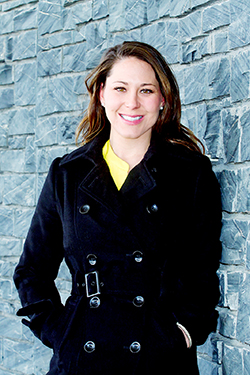 Speedway not only hired Ginny Buckingham after her internship, it also put her on television—twice.
The 2010 alumna appeared in two commercials about an improved recipe for the company's pizzas, in 2012 and 2013. "The entire experience was great, to see the amount of manpower it took to make a commercial a success," Buckingham says. "It made me feel like a movie star."
The Bluffton native now lives in Columbus, Ohio, where she works as a region sales coordinator for Speedway. Her primary duty is to work with region and district managers to increase their sales of in-store products.
"Coaching and mentoring is also a large portion of my role, all the way from the district managers to the overnight cashier," she adds.
Buckingham, who started with Speedway as a district manager trainee, learned many of her management skills in corporate strategy and marketing management courses taught by William Lyons, now an assistant professor emeritus of business.
"I was forced to think outside the box while performing a detailed marketing plan for several different corporations," she recalls. "By having the opportunity to form a plan in a group environment while at Bluffton, I gained the confidence to speak up."
Opportunities abound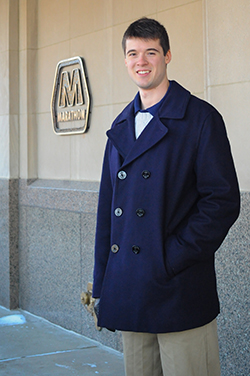 Jonathan Fowler learned about Speedway at a career fair in Columbus, Ohio, where he met a recruiter for the company. "I wanted to do a significant internship that had the potential to propel me into a career once I graduated," the 2014 alumnus from Cincinnati says.
The company wasn't offering any accounting internships at the time, but contacted Fowler a couple months later when one became available. After interviewing at Speedway's corporate headquarters in Enon, Ohio, he was offered a summer position as an accounting analyst intern.
Fowler spent the summer before his senior year accounting for Speedway's fuel dispensers and storage tanks. "I was doing things that a real, entry-level accountant would be doing. I was doing real work in the real workplace," he recalls.
At the end of the summer, he was asked to give a presentation at Marathon Petroleum Company (MPC)—Speedway's parent company—in Findlay, Ohio, to the Controllers Organization management. Based upon his presentation and his job performance at Speedway, he was asked to interview for a full-time accounting position.
Fowler was hired and began working promptly after his May 2014 graduation. He is now accounting for MPC's petroleum product inventory in pipelines throughout the Midwest.
"It's been life-changing, really," says Fowler about his internship experience. "If I hadn't gone to that career fair in Columbus, I wouldn't be where I am today."
Moving up through marketing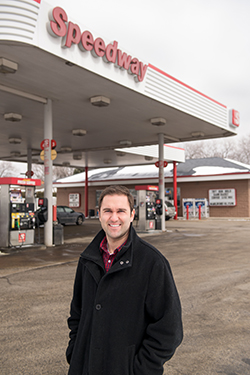 Jim Dwenger worked with professional food marketers throughout his summer 2003 internship at Speedway headquarters. He learned the process of creating a new coffee flavor and observed the decisions made to bring that flavor to stores. He also tested products on a new roller grill and conducted market research by interviewing Speedway customers.
Dwenger worked on two large-scale projects as well. One tasked him with conducting a full audit of all the food equipment in more than 1,000 stores, while the other had him researching packaged sandwiches to determine what kinds of products should be offered. "During the internship process, I learned that I really loved marketing," he says.
He was hired as a district manager trainee shortly after graduating in May 2004, then spent four months running a store before being promoted to district manager for the Findlay and Lima areas. But Dwenger knew his passion was in marketing and continued to search for a marketing position in the company. "One of the things I really liked about my job with Speedway was that it's so big that you can change positions and it's like changing jobs," he explains.
Dwenger was hired as an associate category manager for the company in late 2006. Going from managing a chain of stores to focusing on a single item for all Speedway stores in the nation, he was eventually placed in charge of all coffee products. He conducted market research, created signage and ran promotions, and negotiated the cost of the beverages. "You have to be much more creative within the food arena," he notes.
In 2011, Dwenger relocated to Detroit, Mich., where he became the regional manager for more than 100 Speedway stores. In a year's time, his region became the top-performing region in the company, which led Speedway to transfer him to his current, similar position in Chicago.