An unexpected impression
Brandi Dominique '14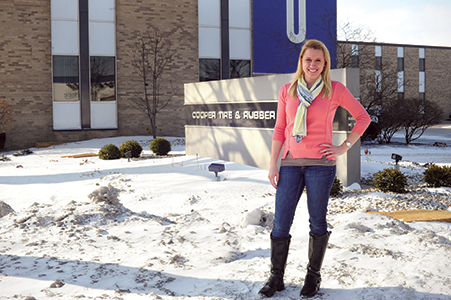 Brandi Dominique didn't expect a brief introduction to lead to employment straight out of college. But one paid internship, a business trip to Mexico and a job offer before graduation, the 2014 Bluffton alumna is proof that even the smallest networking opportunities can lead to a promising career.
Dominique is now a credit analyst for Cooper Tire & Rubber Co. in Findlay, Ohio. While she had long been interested in working for Cooper, it wasn't until an Institute of Management Accountants meeting at Bluffton in March 2013 that her dreams would begin to turn into reality.
Knowing she had an interest in the company, Dr. Jason Swartzlander, associate professor of accounting, introduced Dominique to a Cooper representative at the meeting.
"I wasn't trying to get a job out of it," the Wauseon, Ohio, native recalls. "It was more networking, but I didn't feel it really went anywhere." The conversation lasted only a couple minutes, she explains, and she didn't feel she left a lasting impression.
Over the next month, Dominique began applying for jobs and internships for the following summer. She tried to apply to Cooper, but the company wasn't offering internships at the time, she says.
Just when she felt she was out of luck for summer internships, however, she received a message on LinkedIn from the Cooper rep she had met more than a month before. And by the end of their next conversation, she was scheduled to interview for a paid internship in internal controls, a branch of auditing.
Dominique was offered the internship when she returned from her cross-cultural experience in Trinidad in late May 2013, and she spent the summer in the company's internal controls department.
She feels that her accounting and business administration courses prepared her well for the internship, but the following semester showed her the true value of a Bluffton education. To her surprise, she was not only asked to continue her internship into the fall semester, but also to attend a weeklong business trip to Mexico with the company.
A week after the Mexico trip, Dominique was offered the full-time credit analyst job, which — because her academic work was complete in December 2013 — she has now held for more than a year.
"Bluffton taught me respect; Bluffton taught me how to put others before yourself," adds Dominique, who has integrated those values in her post-graduation life by reaching out to local children through Junior Achievement and Children's Mentoring Connection of Hancock County.
She is grateful that a chance networking opportunity blossomed into an internship that would stretch for six months and lead to a full-time career at one of her top choices in companies. "I was very blessed with how it worked out, and have both God and Bluffton to thank for it," she says.