Josh Sauder '02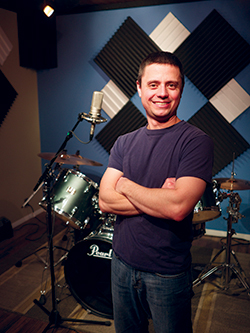 Tradition and technology
Not only has Josh Sauder taken on his family's business, but he has started his own business as well.
The 2002 Bluffton graduate from Grabill, Ind., moved back home after graduating to help his family operate Sauder Feeds Inc., an animal feed manufacturer that began in 1920 with Sauder's great-grandfather and a single incubator for hatching eggs.
And while Sauder plans to stay with the family business, he's also been dabbling in video production since his college days.
Behind the camera
The hobby turned professional in 2006, when he opened Pinnacle Productions, his own video production company. Sauder's main client is River Dance Company in Fort Wayne, Ind., for whom he records live events and produces high-quality videos of performances. He also handles several smaller projects throughout the year, most recently in producing a slideshow for a wedding as well as recording a performance of a local church choir.
Although Sauder considers his company to be secondary to the family business, he enjoys the gigs he gets and manages to stay pretty busy with the cameras, he notes. And instead of taking on several small projects, he's able to focus on a few big ones that he's passionate about. "In a way, it's been kind of nice because it's forced me to really hone in with the company, to narrow it down to the really important things that we do," he says.
Video backstory
Sauder's interest in video production began with a mass media class in high school and continued at Bluffton, where he took courses in electronic music composition and video production. As a senior, the music major was one of 30 students nationwide to be selected for an internship with the Contemporary Music Center in Martha's Vineyard, Mass., where he spent a semester working with sound and record production.
"It was a great experience. I got my hands on soundboards and mics and some really neat equipment," he says of the internship. "We also learned how to be managers—to promote artists, get them gigs and try to get their music out."
Maintaining his roots
While Sauder enjoys exploring his passion in video production, he spends most of his time working with his family to ensure that his great-grandfather's legacy is a lasting one. He's no stranger to getting his hands dirty to create high-quality feed for a variety of farm animals, but he currently serves more administrative roles in accounting, marketing, sales and quality control.
In addition to juggling his own and his family's business, Sauder and his wife, Alissa, have three daughters, Nora, Penny and Lucy, and a fourth child due this month. He also serves as a youth worship leader at Grabill Missionary Church. "We're very blessed with the family and opportunities we've been given," he says.
"I need to make sure my family is taken care of," he adds, "so I'm going to focus on the family business. I'm not giving up Pinnacle, but for now at least I want to keep it small and simple. I'm just open to whatever God has in store in that department."