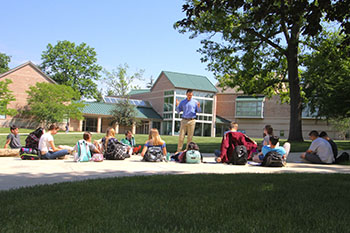 Faith-based MAEd
New MAEd program integrates Christian practice and teacher preparation
Bluffton's newest graduate level offering is a faith-based concentration for educators seeking a Master of Arts in Education. The graduate degree features 10 credit hours of Christ-centered coursework.
Caleb Benner, a high school Bible and social studies teacher at Dock Mennonite Academy in Lansdale, Pa., has taken the concentration courses and is finishing his MAEd online through Bluffton. Now, he's bringing the concepts from the concentration into his classroom.
"The program has had a clear impact on my attitude about relating with students and colleagues," said Benner. "While interactions with students during school can be a significant investment of time and energy, this class helped me recognize the impact that this investment can have in building a positive community and directing a student towards success."
The concentration courses are an outgrowth of the Mennonite Education Agency's Anabaptist Learning Institute (ALI). Dr. Gerald Mast, professor of communication, teaches two of the courses and explained the lessons are less focused on dogma and more directed to including faith in the classroom as a holistic approach to education.
"This program systematically explores how to bring the two ideas of how to be a Christian and how to be a teacher together," explained Mast.
"We're asking 'what does it mean to have a set of beliefs, convictions and commitments inform the way you teach, the way you manage conflict and the way you shape the practices of the classroom?' "
Mast has taught ALI courses for several years, but this is the first year students can take the courses as part of a master's degree program at Bluffton. Teachers who have already completed the ALI program are able to use the courses to seamlessly continue their graduate studies.
And while the program is taught from an Anabaptist perspective, both Mast and Benner believe the program's themes are beneficial for educators serving in schools of other Christian denominations or even in the public sector.
"If you are a Christian, Anabaptist or not, I believe these classes do provide a frame of reference and tone that you will not find in a standard education program," said Benner. "Whether we can share about our faith directly with our students or not, we are still God's hands and feet to the world so that should affect the way we teach."
"These skills are useful for any teacher who in a sense wants to bear witness in the classroom to matters of faith and the spirit without necessarily calling in a specific way of talking about God," said Mast. "Finding alternative ways to address conflict is an example of that. You don't have to speak about faith to have a faithful practice in conflict transformation and behavior support."
Because of online and videoconferencing technology, Bluffton is able to offer graduate courses to teachers outside of Ohio. Bluffton is also part of the State Authorization Reciprocity Agreement, a national initiative which makes distance education courses accessible to students across state lines. Because of this, teachers—and their students—from across the country are able to benefit from this new concentration.