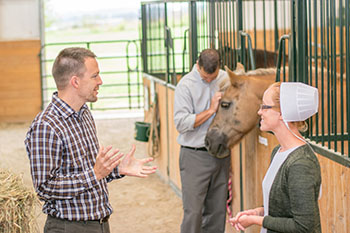 Mark Leinbach '16
For Mark Leinbach, executive director of SpringHaven Counseling Center, the unique mental health facility required a leader with a unique approach to business. So when Leinbach, who already had a master's degree in social work, was encouraged to pursue an MBA, he chose Bluffton's partnership with The Collaborative MBA.
"We were the first cohort, so we felt like we were really doing something new. We had a shared ownership in the fact that we were getting this program going and shaping what the program was going to be," said Leinbach, who graduated in 2016.
Leinbach was in the initial group of students who graduated from the program which promotes leadership for the common good and is a partnership between Bluffton, Canadian Mennonite University, Eastern Mennonite University and Goshen College.
With a program structure built on two one-week residencies—where students live and learn together—and live videoconference classes throughout the year, the students themselves became a collaborative learning community. Though the students were physically disconnected from each other for a majority of the program, strong relationships were formed.
"It's been a year. We finished up in June of last year, but we're planning a Zoom (videoconference) meeting to get the group back together. It was a distinct approach to an MBA program."
Now, Leinbach is using the experience to improve relationships and strengthen bonds in the heart of Amish country in eastern Ohio. SpringHaven was specifically established as a non-profit mental health organization with a faith-based perspective. About 30 percent of their outpatient clientele is Amish. However, many more come from conservative Mennonite backgrounds.
"The plain community were a lot of times going to Indiana or Pennsylvania for help. They had to travel far to get what we believe are culturally appropriate services. There were other services in the community, but it wasn't what they were looking for. We stepped in to fill that niche," Leinbach explained.
Services at SpringHaven's two sites – in Dundee and Sterling, Ohio, are now growing at a rapid pace.
"We added a new campus and we built an equine arena which houses our assisted equine counseling. It's been an awesome story of how we have grown as a program," said Leinbach. "In 2013, we averaged about 36 new people coming in for sessions each month. So far this year, we're averaging 66 new people coming in for sessions each month."
Services range from marriage retreats to intensive experiences for obsessive compulsive disorder. "We are starting to see a greater acceptance of mental health disorders as serious disorders. It's a gradual change," said Leinbach. "We've seen a lot of positive momentum in the community in part because of SpringHaven and the work we're doing."