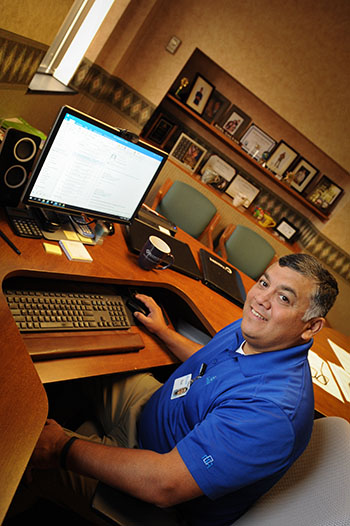 Roel Galvan MAOM '01
From student to teacher, Roel Galvan, is still learning. Galvan is a graduate of Bluffton's first Master of Arts in Organizational Management cohort. Now, alongside his position as director of employee relations and training at Sauder Woodworking in Archbold, Ohio, Galvan teaches four classes in Bluffton's degree-completion program for working adults.
What might come as a surprise to some of his students is that Galvan's most nerve-wracking experiences from his time as a graduate student revolve around public speaking. He remembers being videotaped and critiqued while presenting in front of his cohort.
"Although it was intimidating at first, it helped me to stand in front of a group and to be able to confidently speak," said Galvan.
He certainly benefited from the support of peers and professors.
"What's great about Bluffton's program is it isn't cutthroat. It's about learning from each other—whether you're in the bachelor's or master's program—there are no right or wrong answers," said Galvan. "It's not as much about tests and memorizing, it's what we learn from each other that sticks, and I'm still learning from the students I'm teaching now."
Looking to bolster his resume, Galvan enrolled in Bluffton's newly envisioned program in 2000 and earned his MAOM in 2002. He's worked at Sauder for the last 27 years and was promoted while he was earning his master's.
"I could have been satisfied with my bachelor's degree, but I wanted to go to the next level."
Life was hectic for those two years. Galvan had an 8-year-old and a 4-year-old when he entered the program and by the time he graduated, a third child had been added to the family with a fourth on the way. But he was adamant about finishing.
"I drove down to Bluffton for two years. I left my job at 4:30 in the evening once a week to have class from 6-10 p.m. and I wouldn't get home until 11 or 11:30 p.m.," said Galvan, "but the outcome was obviously a positive for me."
Galvan also uses the leadership skills obtained at Bluffton as a member of the Archbold School Board and the Archbold Chamber of Commerce.
"Within the community, I've become more involved in different programs. I think going through Bluffton's program and earning my master's has expanded my horizons," said Galvan who often hears from the community when difficult decisions are made on either of the boards.
"You have to know how to navigate situations with a certain temper and you have to understand people," he explained. "Most of the time you have to learn to listen first before talking." Looking back on the last 15 years, Galvan said, "It's opened a lot of doors and for that I'm grateful."