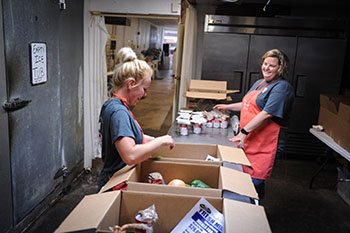 Marlena Ballinger 14
Life happens. The ups and downs never come at the "right time." Marlena Ballinger, 2014 graduate, knows this all too well. While completing her bachelor's degree through Bluffton's organizational management program, Ballinger's husband suffered a severe injury (a 1,600-pound steel coil crushed his leg from the knee down), her sister passed away and she took over her parent's business, all while raising two little girls.
"But I had one of the best support systems I could have ever asked for. It was my cohort that held me together and pushed me through," said Ballinger, the owner of The Dough Hook, a meat market, deli and bakery, located on Main Street in Bluffton. "We supported each other—there were also babies and marriages during my cohort—and that's what makes the program so successful."
Ballinger had previously earned an associate's degree in graphic design and spent several years in the newspaper business advancing in the ranks. As the editor of the Putnam County Sentinel, she knew she wanted to further develop her managerial skills and resume. So "I looked at Bluffton and I was hooked. It was the perfect fit," said Ballinger.
Still she never thought she would use the skills to run her own business. But when her parents decided to retire in 2013, Ballinger knew the business should stay in the family.
"I didn't want to see it go to somebody else, and I knew I had it in me to take it over," said Ballinger, "and I was getting everything I needed at Bluffton—human resources, accounting, leadership—to operate a business."
Now, Ballinger's business caters to working professionals like her former classmates. One of Ballinger's most successful additions to the family business is a prepackaged meal box, with simple recipes and ingredients customers can put together at home.
"I put pencil to paper and I did a cost analysis on it and decided to go for it. It started slow but the demand is still growing and the meal plans are going strong a year and a half later."
The Fresh Meal boxes are similar to delivered meal kits from companies such as Hello Fresh or Blue Apron. However, Ballinger gears her boxes toward a busy family, families like hers which are always headed to soccer practice or to a school function.
"I ordered one of those other boxes just to see what it was like and those meals were so hard and the prep time took forever. Mine are designed to truly be 30-minute meals," said Ballinger.
Ballinger's hard work and dedication is now being recognized. The Dough Hook was named Woman Owned Business of the Year in May by the Lima-Allen County Chamber of Commerce.