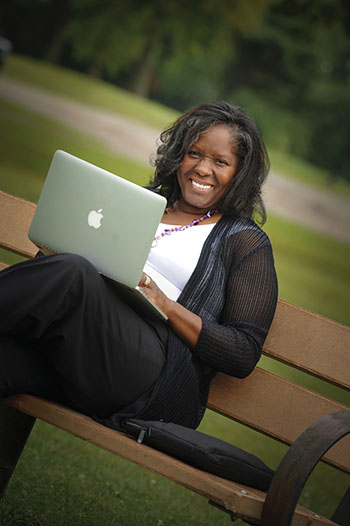 Dorothy Lovell Jones '06
Every day on her drive home from an unfulfilling job, Dorothy Lovell Jones passed by Bluffton's campus. Until the day she decided to stop in and speak with the president, Dr. Lee Snyder. "I found her to be approachable and her warm welcome and lengthy conversation gave me a glimpse of what Bluffton was all about, so I decided to attend classes there," Jones said.
With an associate degree in business, Jones completed two more years at Bluffton to earn her bachelor's degree. Her love of learning was kindled so much that she went on to complete a master's degree.
At Bluffton's graduation, Jones, a poet whose desire is to uplift, encourage and inspire, was asked to recite "A New Spirit Rising," a poem she wrote about Bluffton's values and former tagline, "Embracing Spirit, Engaging Minds." The poem contains lines including, "No matter how rough the roads are ahead/ Or how tough life may be/ This new spirit rising is for eternity." Poetry continues to be an important part of her life.
Using her writing background and educational experience, Jones set out to make a difference in the lives of area youth through I Am Making A Difference, Inc., an organization that she founded for Lima-area students in K-12 grades. It is a program that helps prepare students for regional and statewide oratorical contests, which commemorate and honor the legacy of Dr. Martin Luther King, Jr.
"We encourage young people to get involved, to use their voice and to own the fact that they can make a difference in their lives. They do this through research on positive individuals who are making a difference in the world, then write, memorize and recite their speeches in front of regional and statewide audiences," said Jones, who adds that the program has served more than a hundred students over the years.
Jones is also in her second term as a Dr. Martin Luther King Holiday Commissioner in Columbus, Ohio, which oversees the oratorical contest. She was appointed by Governor John Kasich. Ten years later, Jones is witnessing former participants earn their college degrees, which is one of the main goals of the program.
"This is from the heart, without the opportunity of the BCOMP program, I do not know if there would have been an I Am Making A Difference, Inc. I don't know if I would have been able to complete my education. I am grateful that I had people like Dr. Snyder and President James Harder and others who cared about me as an individual. They truly embraced my spirit and engaged my mind."
A New Spirit Rising
There is a new spirit rising inside of me
I can feel it so strong that it will not let me be.
It is filled with motivation and determination.
A willingness to learn and a willingness to grow
A desire to gain knowledge for the things
I must know.
I am able to embrace my spirit
And engage my mind.
This new spirit rising
Is not so hard to find.
It is found in God's Word…Words like
"I Can Do All Things Through Christ
That Strengthens Me"
This Spirit is so strong Y'all
That it will not let me be.
No matter how rough the roads are ahead
Or how tough life maybe
This new spirit rising is for eternity.
You see, it makes me believe
That I can handle any situation that comes my way
Allowing me to stand and fight
Yet, another day.
A New Spirit Rising is rising indeed
For it is my dreams, my desires
And my will to succeed.
Ladies and Gentlemen
I know it's true
For a New Spirit Rising is also in You!

Inspired by "Embracing Spirits and Engaging Minds"
Bluffton University 2006
By Dorothy Lovell Jones

All Rights Reserved ©2017