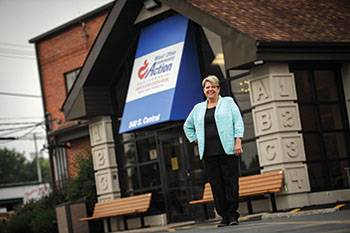 Jackie Fox 02
Jackie Fox, chief executive officer of West Ohio Community Action Partnership, beat the odds. At 15, she became a teen mom, but with support and employment from community action agencies and later a college degree from Bluffton, Fox ascended the ranks.
"My daughters saw me go from being a single mom working two jobs all the way up to being director of Head Start to now CEO," explained Fox. "I know that if you give people the right opportunities, most people can make it through whatever adversity they are having in their lives."
As a young mom, Fox relied on Head Start's school readiness program for her children, and she eventually supported other low-income parents as a Head Start teacher. Along the way, she slowly took traditional college classes in pursuit of a bachelor's degree. However, after being named director of Head Start in Allen County, Fox decided to speed up the process, so she enrolled in Bluffton's evening degree-completion program.
"My daughters were very proud of me when I graduated. I was the first person in my family to get a bachelor's degree. It was a big event," said Fox. "I saw the benefits right away. Being in a class full of adults, that was a game changer for me. You're passing ideas around and learning from so many people."
Fox recalled the long days that came along with the program, but her sister helped care for her daughters on class nights and she was able to learn about concepts, such as situational leadership, that she was able to use immediately at work.
"I remember an ethics class where I had to write about a tough decision that needed to be made. I used the paper to help me think through a decision I needed to make concerning a difficult employee. Most of my papers were based directly on experiences that I had at work."
Now, Fox oversees about 160 employees for the agency which serves about 13,000 individuals in Allen, Auglaize and Mercer counties. WOCAP has an $11 million operating budget and 14 direct service programs. The agency uses a three pronged approach to empowerment for individuals and families.
1. Prevention/education programs which include Head Start and fair housing
2. Emergency programs such as home energy assistance
3. Self-sufficiency programs including skills training and home ownership classes
The goal of WOCAP is to provide opportunities for people to reach their highest potential by providing stepping stones for success.
"I have beaten the odds, and that's why I'm really passionate about the work I do," said Fox. "I feel like we are supposed to give people a second chance."