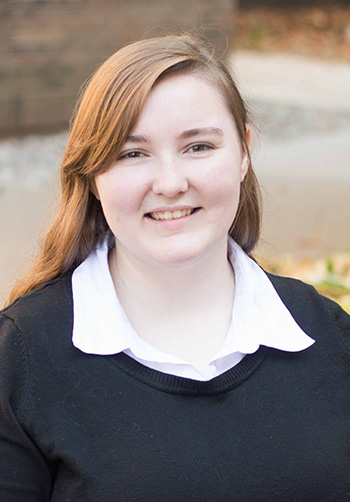 ---
"A lot of the reasons people are drawn to Bluffton is because of the community feel. That's certainly why I came here. No matter where you go on campus, you feel like you know people and professors, and you feel comfortable with them."
Knowlton scholarships
The Austin E. Knowlton Memorial Scholarships award $4,000 to two first-year students and can be renewed annually for four years. Special consideration is given to residents of Ohio, with a first preference for students interested in majoring in math, science or technology-related fields.
Knowlton Scholars will have special opportunities to work alongside faculty members, interact with campus speakers and attend off-campus conferences.
The award and application process:
$4,000 is awarded to the recipients.
For applicants with outstanding high school records (GPA of 3.5 and/or ACT of 25 or SAT of 1130), the Knowlton Memorial Scholarship is awarded in addition to other

academic merit scholarships. Depending on your record of achievement, it is possible to receive scholarships adding up to full tuition.
Students are automatically considered when they apply for admission, and are strongly encouraged to apply by Jan. 31 for priority consideration.


About Austin E. Knowlton
Austin E. Knowlton was a 1927 graduate of Bellefontaine (Ohio) High School and a 1931 graduate of The Ohio State University, where he received a bachelor's degree in architectural engineering.
He was the owner of the Knowlton Construction Company, established in Bellefontaine in 1937. In his lifetime, Mr. Knowlton designed more than 600 buildings, including more than 160 college and university buildings across Ohio, along with many schools, hospitals, and commercial and government structures.
A successful businessman and avid sportsman, Knowlton was a founding partner and chairman of the board of the Cincinnati Bengals and a minority owner of the Cincinnati Reds.
He is widely recognized for his philanthropic leadership, including a special interest in supporting education. The Ohio State School of Architecture is named in his honor, and the Austin E. Knowlton Foundation that he established provided funding for the Knowlton Library in Logan County.
The foundation continues to carry on his interest in providing support for higher education.
Recent recipients
2016 - Lydia Sorensen
2017 - Abbie Parkins
2018 - Bailee Kingsley and Zachary Nobis
2019 - Riley Larcom and Michael Lindhorst