Knowlton Scholar
10/27/2020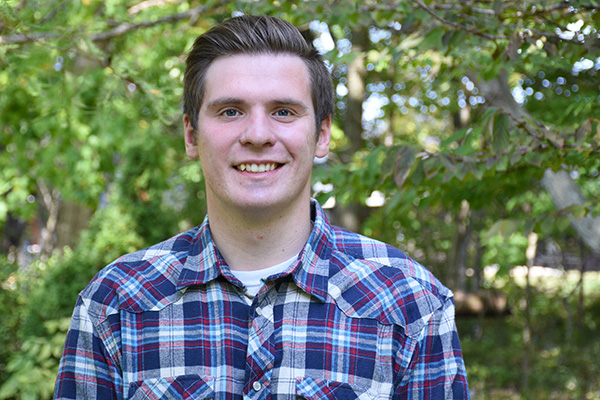 Expanding a passion for science, football
Zac Nobis '22, a biology major from Bryan, Ohio, is making the most of his Bluffton University experience—both in the classroom and on the football field.
With the goal of becoming a surgeon, Nobis has already applied to early assurance programs at medical schools. And as Bluffton's quarterback, Nobis led the Beavers to a 28-21 victory against Adrian College during Homecoming.
"Being a science major and keeping up with labs means I'm a little busier doing academics, but I love every second of it," said Nobis. "I love football. I love school, and I love Bluffton."
Nobis has played since he was four or five, and described football as his first true passion.
"It has always been a part of my life," explained Nobis. "It's hard to imagine my life without it, but I plan to make the most of these last two years and leave with some good memories."
He even found his vocation in science because of an unfortunate high school football injury.
"I broke my clavicle. I had stitches in my knee, and I had a kidney stone all at the same time. It was rough, but my orthopedic surgeon became a really bright spot in my life," said Nobis. "I want to pursue orthopedic surgery and help others in the same way."
Nobis chose Bluffton to pursue his academic and athletic goals because he was looking for a small, close-knit campus, and Bluffton reminded him of his hometown. After finishing the spring 2020 semester remotely, he now appreciates the opportunity to be back in the classroom at Bluffton this fall.
"Being back on campus is huge for me and my peers. I've been able to get better hands-on experience, and I've been able to ask questions right then and there in the labs," said Nobis. "I feel like learning in community really benefits us all."
On top of athletics and academics, Nobis is a resident advisor in Bren-Dell Hall, campus ambassador and a Knowlton Scholar, a designation given to select students who major in a STEM (Science, Technology, Engineering and Math) field at Bluffton. These students are also awarded the Austin E. Knowlton Scholarship.
"Every year I fill out a big thank you card. It's a great scholarship, and it feels good to know that my progress and hard work as a science student is seen and rewarded," said Nobis. "Plus, I have medical school coming up so every scholarship helps."
---
Most Bluffton students who have entered health professions have majored in biology and/or chemistry.