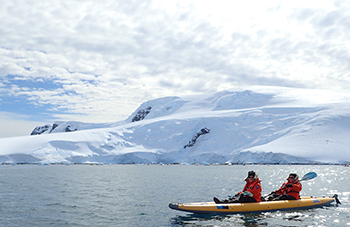 Dr. Sarah Cecire
When planning her sabbatical for the fall 2015 semester, Dr. Sarah Cecire, professor of education, wanted to do something that would allow her to grow professionally, something she could truly get excited about. So, she planned a trip to Antarctica.
Cecire spent the fall semester researching, planning and studying Antarctica with, Beppie Walerius, a retired 5th grade science teacher.
The pre-planning, along with the two-week trip to Antarctica, resulted in the creation of 18 teaching units available to elementary teachers with Antarctica as the backdrop.
The lessons, can be found at http://sites.google.com/site/antarcticaexplorations/ and range from "The Penguins of Antarctica" to "Water, Water Everywhere." The units have been adapted for use in language arts, math, physical education, science, social studies, technology and art classes. "The goal is to expose and enlighten students to the wonders of the world," said Cecire. "We hope to broaden their knowledge of global issues and the ways in which they can become informed and productive citizens."
In early December, Cecire, Walerius, and Cecire's sister Dr. Barbara Hull, a retired professor of biology at Wright State University, traveled to the southern hemisphere with Lindblad Expeditions and National Geographic.
During the day, the trio ventured onto the continent. There are no hotels in Antarctica, so they spent their nights on a cruise ship. "When you think cruise ship, you think entertainment, casinos and all that kind of stuff. Not so with this one. The entertainment was lectures."
They trekked to places like Orne Harbor, Port Lockroy where they encountered Gentoo penguins everywhere and Mikkelsen Harbor where they kayaked in the sea.
"It was just phenomenal. We stood in awe of what we saw. We went down Iceberg Alley. One of them was 10 miles long. I had just never seen anything like that. I had seen glaciers in Alaska, but they were like the Alaska glaciers on steroids," said Cecire.
The entire time, though, respect for nature was paramount.
"We were told if we went knee deep in the snow or something, once we got our foot out, we were to pack that snow back in. We didn't want a penguin to fall into that, because if they did, they couldn't get out," said Cecire.
Included Content