Jared Lehman '97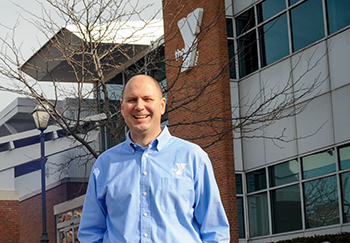 Jared Lehman '97, MAOM '02, didn't venture far from home to find a fulfilling career. He graduated from Bluffton High School, majored in social work at Bluffton and is the seventh generation of his family to live on the family homestead.
Even though his roots are firmly planted in small town life, he has achieved high-level success. Lehman oversees 160 full and part-time employees, more than 400 volunteers and about 6,000 members as CEO of the Lima Family YMCA. On top of that, the Y provides 66 units of housing for men in transition from homelessness.
"The thing that I love about the Y historically is, we have been in Lima for over 120 years and not a lot of people know that," said Lehman.
Lehman was named CEO in July of 2015. "If you would have told me 10 years ago that I'd have this opportunity, I would have laughed," said Lehman.
That's because his background is primarily in helping the elderly. He spent nearly two decades as an employee and administrator in long term care. For contrast, one of the missions of the Y is youth development. "When you work with seniors, they're so full of wisdom, they're so full of life experiences, and when we work with kids, we're on the other side of that spectrum. Everything is new. They're inquisitive. They want to learn," said Lehman.
Lehman says many of the skills he used in long term care are transferable—strategic planning, team building and fundraising to name a few.
Many of those skills were honed as an undergrad at Bluffton. Mentors like social work professors, Don Brubaker and Betty Sommer, helped shape his perspective of the world and Randy Keeler, associate professor of religion, instilled a passion for ministry. "I think, ultimately, that led to my desire to work in a non-profit, faith-based setting, because in that setting, we have an opportunity to share the faith," said Lehman.
Included Content