Diego Rodriguez '04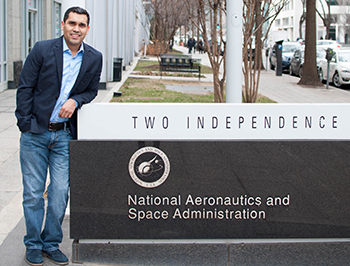 Diego Rodriguez's job is out of this world. Well, not quite. Rodriguez '04 works as a communication and public outreach specialist for the National Aeronautics and Space Administration in Washington D.C.
"Not only do we have people that go to space but a lot of people behind them to make that happen. There is more to NASA than just space exploration," said Rodriguez.
Rodriguez started working for NASA in 2011 at the Johnson Space Center in Houston, where he was manager of internships, fellowships and scholarships. He is currently on a professional development rotation in Washington, D.C. where he is sharing NASA's message with high level officials in the federal government.
"We're trying to tell the story of how we're going to get to Mars. In order to do that we need a budget from the White House, but we also need support from the department. We need support from universities. We cannot do this on our own," said Rodriguez.
Rodriguez was a business major and developed his communication skills in Bill Lyons' classes.
"You got comfortable being in front of people, standing there and making presentations; being uncomfortable because of the questions he would ask you. He was really good at teaching that part."
Rodriguez is also using Bluffton's enduring value of respect on a daily basis.
"We have a lot of respect for humanity. Our main goal is space exploration to benefit all humankind," said Rodriguez.
The benefit to humankind comes in various forms. For example, experiments that were done on the International Space Station have led to a potential vaccine for salmonella.
Rodriguez says it's difficult to describe a typical day at the office because every day a new challenge arises. "It's an exciting place to work."
Included Content