'A unique situation'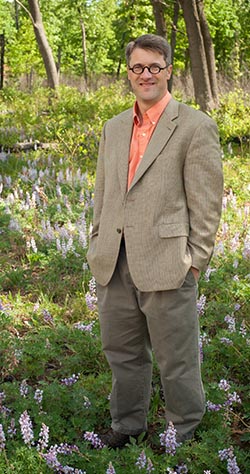 Dr. Todd Crail
Lecturer, Department of Environmental Sciences
University of Toledo
Bluffton '95
Major: biology

Many alumni remember Bluffton as a "caring" campus community. For Dr. Todd Crail, that description may be particularly meaningful.
"I was a great example of what not to do," says Crail about his college experience. "I wasn't ready for responsibility."
But, in what he calls "a unique situation," Bluffton was "a community that accepted me even though I was a real challenge," he says. "Bluffton kept me going forward," and that, he adds, was "huge." Crail now holds master's and doctoral degrees in ecology from the University of Toledo, where he also teaches and does research in environmental science.
Planting seeds.
Crail, a Lima native and the son of Douglas Crail '79, cites Dr. Robert Antibus, a professor of biology, as one example of Bluffton's patience with him.
"He let me go on his field trip to Mud Lake Bog a second time after I had taken the ecology course, which maintained an important connection for me," Crail says. That gesture was emblematic, he explains, "of how the Bluffton community maintained its composure in spite of my antics, and was solid footing for me to develop."
Coming around.
For 10 years after graduation, he worked for several information technology firms in the Toledo area. In 2005, however, "I ran into the right people, and they invited me to come to graduate school" at UT.
One of the people he met was Dr. Hans Gottgens, an environmental sciences professor who initially asked Crail, an avid fisherman, for his help with a fish survey. "He couldn't figure out why I wasn't in grad school, and I didn't have a good answer for him," Crail recalls.
"I was running around chasing fish" and, in trying to figure out better ways to catch them, "got caught doing science," he says. That fostered a broader interest in biodiversity and in natural systems, which he now studies largely in the Oak Openings region west of Toledo and into southeast Michigan.
Researcher and teacher.
A sand ridge left behind by receding glaciers, the Oak Openings is home to an array of plant and animal species. The sandy soil makes it inhospitable to agriculture, but recent housing development has changed its character, according to Crail.
His "ultimate epiphany," as he describes it, came when, as an apartment dweller in the region, he saw a large, nearby sand dune flattened by bulldozers to make way for storage units. "That ripped at my soul," says Crail, who became involved with The Nature Conservancy soon afterward.
After earning his master's degree in 2007, and en route to his Ph.D. — which he finished last year — Crail served a two-year National Science Foundation fellowship that was the most formative experience of his doctoral program, he says.
The fellowship was particularly valuable, he explains, for what he learned about communicating material as a teacher, including innovative ways to convey it. He now combines those lessons with his own life lessons in his teaching of undergraduates. "I can really relate to a lot of students who are struggling," he adds.
Living the life.
Crail's avocations also include other activities — photography and snorkeling, for instance — that are part of his scientific inquiry. "I don't know when I'm working and when I'm playing," he says. "I am living my passion."