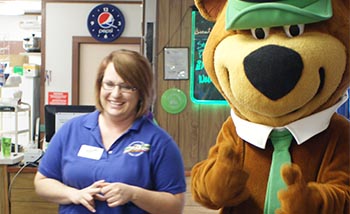 Rachael Stine

Rachael Stine had another major in mind when she came to Bluffton in 2002. But once she took an elective class in games and social recreation, "I decided that's what I wanted to do," she recalls.
The decision has worked out well for Stine, who earned her bachelor's degree in recreation management in 2006. She has worked since then at Yogi Bear's Jellystone Park Camp-Resort at Natural Bridge (Va.), where she started as recreation director and is now in her second year as general manager.
In her years there, Stine has helped the park win five awards from a franchisor that has nearly 80 franchisees in the United States and Canada. Located five miles from Natural Bridge on the James River, the park was the organization's 2010 Franchisee of the Year and also counts two outstanding customer service awards among its honors during Stine's tenure.
"The campground has become part of my life," says the Dayton native, who lives in an apartment on the property. "That was part of the pull," she says, when she went to Virginia to meet the then-owners in 2006 and "fell in love with the area." Kristina Crall, a 2001 Bluffton graduate who was working at another park in Virginia, knew the owners were looking for a recreation director and helped make the connection, Stine adds.
That first year, her only employees were three high school girls who helped with activities and worked in the office. But at the same time, she says, "I had free reign to create my own program" at the family campground, which has about 240 camping sites and 30 cabins for its vacationing, mainly weekend visitors.
She expanded the number of activities beginning in her second year. Each weekend now has a theme, such as Mexican fiesta, luau or country; ceramics and tie-dyeing are among the arts and crafts; and games include shaving cream wiffle ball and Ultimate Frisbee, "which I stole from Bluffton," Stine confesses. A water park with two slides and a splash park has been added as well, along with a "jumping pillow." ("Think of a big couch, and you're jumping on it," she explains.)
Not surprisingly, Yogi Bear and related, costumed characters are prominent at the park, which offers activities for guests every hour during the day. In October, activities include Halloween costume and decorating contests and wagon rides on a "haunted" trail. "That's become a huge thing here," she notes.
Now, as the general manager with about 50 employees, Stine says the operation "has grown massively." She still enjoys simple pleasures of the job, though.
"I get to know a lot of people who come here," she says, adding that she looks forward to seeing them, and seeing their children grow. "They're making memories, and it's fun to be able to share in that."
Fun was what she wanted in a job after taking the games and social recreation class from Tami Forbes, an associate professor and chair of the health, fitness and sport science department.
Stine remembers a class assignment to put together 50 games. Games were then presented to the whole class and, if they were for toddlers, presenters had to act like one. "Who wouldn't enjoy this?" she recalls thinking.
She remains in touch with Forbes, who was her instructor for many classes and has been "crucial in my success," Stine says. Looking back, she also recognizes similarities between work projects and class projects at Bluffton, saying "now I know what I was doing."
"All of those all-nighters might have been worth it."