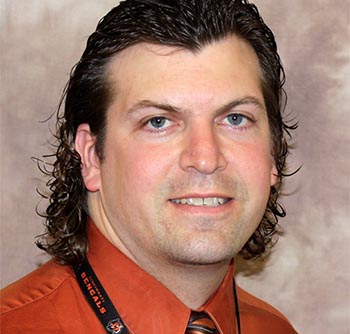 Dr. Nathan Bidlack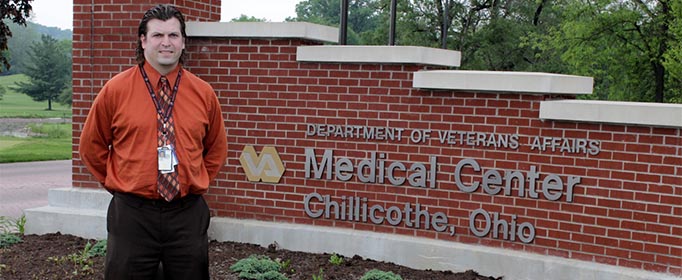 One of Dr. Nathan Bidlack's patients at the Veterans Transition and Empowerment Center wanted to take up martial arts. Bidlack, a clinical psychologist and the center's coordinator, helped him get started, and the man currently practices twice a week.
After 10 years in a group home, another patient has now been living in his own apartment for more than two years. Other veterans who have gone through the psychosocial rehabilitation program at the Chillicothe (Ohio) Veterans Administration Medical Center have earned their GED diploma or started college, Bidlack says.
"To see that change is pretty phenomenal," says the 2004 Bluffton alumnus, who has worked at the center since October 2009 and became coordinator four months ago. "I just find it very personally meaningful and important work."
That's coming from someone who had thought he would become a parole officer when he came to Bluffton from his native Continental, Ohio, as a criminal justice major, and who still planned to work in a prison while a doctoral student in psychology at Wright State University.
Bidlack says Dr. Phillip Kingsley, a professor emeritus of psychology and his instructor for an introductory course, convinced him to add psychology as a second major at Bluffton. And his criminal justice plans went by the wayside when he was never placed in a jail or prison for a graduate practicum.
His training included stints in a domestic violence program in Dayton and in community mental health settings in Dayton and Cincinnati. Then, through the Cincinnati VA, he went to a clinic for veterans with post-traumatic stress disorder (PTSD), "and I loved it," he recalls.
Earning his doctorate in 2009, Bidlack applied to the VA facilities in Cincinnati, Dayton and Chillicothe, where, though 75 miles from his home in Lebanon, Ohio, he was offered a job with the population he sought.
Bidlack's patients at Chillicothe are veterans, from the Vietnam era on, with severe and chronic mental illness, he explains. Most have been diagnosed either with PTSD, schizophrenia, bipolar disorder or severe major depressive disorder. He sees 15-20 veterans per week — 20-25 percent of them female — working primarily in groups focused on education about their illness, learning coping strategies, building social and relationship skills, and on integration into the community.
"The VA is making a big push to integrate physical and mental health care," says Bidlack, noting that mental health services began to expand after veterans started returning from Iraq and Afghanistan in 2003-04. At Chillicothe, which serves veterans in south central and southeast Ohio, the number of psychologists has risen in the last decade from about 10 to more than 25, he adds.
More than half of his patients, who range in age from 27 to 65 and older, have mental illness that resulted directly from their military service. For older veterans, he points out, "mental health services wouldn't have been on the radar" when they served, and many would try to hide their problems, due at least in part to the stigma attached. Now, Bidlack sees Vietnam-era veterans taking a mentorship role, telling their younger counterparts to take advantage of services that weren't available to them.
Calling emphasis on community integration "a big cultural shift" for the VA, he notes, too, that younger veterans generally don't want to just stay home or hang out at VA offices, preferring instead to start a career or go back to school.
Issues such as multiple deployments, prevalence of physical pain and the number of suicides in the military are added challenges in his job, "but we have a lot of people making great strides," Bidlack says. "I'm doing what I love to do."