Dietetics Internship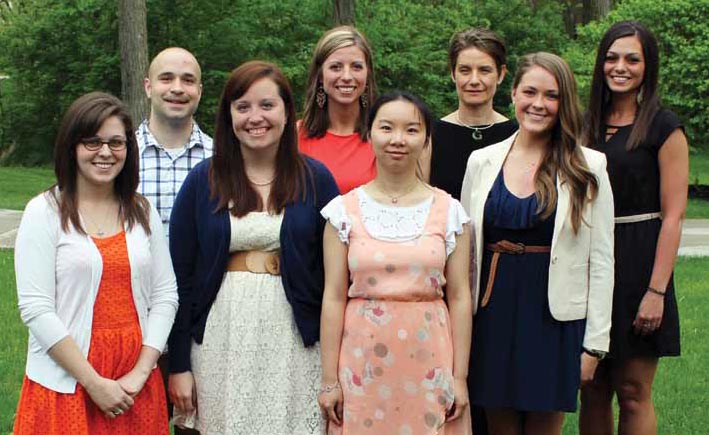 First dietetics interns get opportunity, variety
Megan Shelby grew "extremely frustrated," she admits, while seeking the dietetics internship she needed to complete in order to take a national registration exam.
Due to a nationwide shortage of internship positions in a competitive field, only about half of dietetics graduates who apply for an accredited internship secure one. And after applying for six and interviewing for a few of them, all without success, "I was so discouraged," the 2011 Michigan State University graduate says.
But when the director of her undergraduate program at Michigan State told her in spring 2012 about an internship program starting at Bluffton that fall, she immediately emailed Jennifer Little, the internship experience coordinator.
Shelby subsequently became one of the eight members of the first group of dietetics interns at Bluffton. Over nine months, the interns gained clinical and community-based practice primarily at sites in Bluffton, Lima and Findlay, Ohio, and with Mennonite Disaster Service (MDS). Completing the program last month qualified them to take the national exam; passing the exam leads to state licensure in Ohio, allowing an individual to begin practicing as a registered dietitian in the United States.
The first Bluffton interns appreciated the variety of both the settings where they worked and the people they worked with, including preceptors (on-site supervisors) as well as service recipients of all ages.
"We had so many rotations that we were able to see how nutrition is applied in many situations," said Allison Polke, who came to Bluffton from Tinley Park, Ill., after earning her bachelor's degree from Purdue University in 2012. Unlike some internships, which are based in one area, the Bluffton program enabled her to see clinical sites along with community settings, added Polke, who is interested in a corporate wellness job in Chicago.
Among the clinical locations in Lima where the interns served were St. Rita's Medical Center; St. Rita's Health Management Group, which offers outpatient nutrition counseling; Health Partners of Western Ohio, an outpatient health center; Kindred Hospital, which provides long-term acute care; and Kidney Services of West Central Ohio, a dialysis clinic. Other sites were long-term care facilities in Lima (Baton Rouge Health Services Community) and nearby Pandora (Hilty Memorial Home).
With a stated focus on community and public health nutrition, the program—created by Dr. Deborah Myers, a professor and director of Bluffton's undergraduate dietetics program—also took interns into food service at St. Rita's Medical Center, Lima City Schools, Bluffton Hospital and MDS. Some traveled to Minot, N.D., or Birmingham, Ala., to participate in an MDS pilot
program for feeding volunteers at disaster sites.
Interns assisted, too, with a Women, Infants and Children (WIC) nutrition program and a Head Start program, both in Lima, and at the Bluffton Family Recreation center and the Ohio State University Extension office in Findlay. Also in Findlay, some spent time at Cascades Women's Health, an OB-GYN practice, or worked with a dietitian counseling patients at Blanchard Valley Medical Associates.
The many settings "really broadened my sight about the field of dietetics," noted Qianwen "Sheryl" Tan. The internship allowed her both to explore interest in community nutrition and to set a goal of ultimately working in an outpatient facility to help people with various health conditions, she said.
Tan graduated in 2009 from the University of California at Davis, just west of Sacramento. "After working for a few years in a senior center in San Francisco, I really wanted to move on and become a dietitian," she explained. Starting the internship
application process last spring, she heard about the Bluffton program through UC-Davis and submitted an application. After being accepted, "I decided to come to Ohio for this internship because it was a very important opportunity for me," she said.
The internship wasn't her only memorable experience during the last year. Wanting to make the U.S. "my home," she said, after having lived here for 11 years, Tan became a naturalized citizen in March. After completing the Bluffton program, she planned to return to San Francisco and look for a job while preparing for the national registration exam.
The number of internship sites also created opportunities to see the same recipients of services in different places, find out how they were doing and offer positive reinforcement, added Jessica McDonald, a 2012 Bluffton graduate from Mechanicsburg, Ohio. She is seeking a community-based dietetics position in the Columbus area.
Amber Swaney and Sara Spurgeon, 2012 alumni of Bluffton and Ball State University, respectively, pointed out the value of working with preceptors with varying jobs and educational training, from two-year to graduate degrees. Ability to gain experience from such a range of professionals is good, Swaney said, and the broad exposure may prove to be particularly helpful when dealing with prospective employers during a job search, Spurgeon noted. Many of the preceptors have connections with Bluffton; several are graduates of the dietetics program.
In addition, said Shelby, "everybody we worked with has a different style, so we've picked up different techniques" to try on the job. She has accepted a position with WIC in her hometown of Jackson, Mich.
Swaney, who is marrying current Bluffton senior and fellow Harrod, Ohio, resident Sean Anderson on June 22, will become a dietitian in an endocrinologist's office in Cridersville, Ohio, after she passes the national exam. Spurgeon, meanwhile, is starting as a clinical dietitian at Parkview Regional Medical Center in Fort Wayne, Ind., where she lives.
Chad Evans, the only man among the eight interns, said the experience reinforced the need for good nutrition throughout life. A 2012 graduate of Western Michigan University, the Sturgis, Mich., resident served six years in the Army National Guard, including one year-plus in Baghdad during the Iraq War. His goal now is to work for the Veterans Administration in a hospital or outpatient setting.
At a graduation dinner May 10, intern Joanne Pannabecker, a Bluffton resident who holds bachelor's and master's degrees from Lincoln University in New Zealand, thanked Little for making the group's "dreams come true."
"Each of us is so grateful that we are in this spot right now," added Shelby, also speaking for her fellow interns at the dinner. "I can't thank you enough for starting the program," she said, addressing Myers and other university administrators, "because this is what dietetics needs."