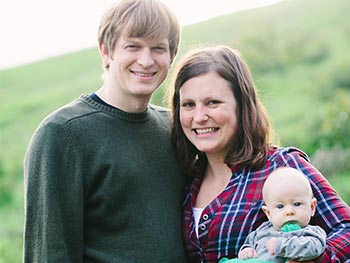 Hannah Heinzekehr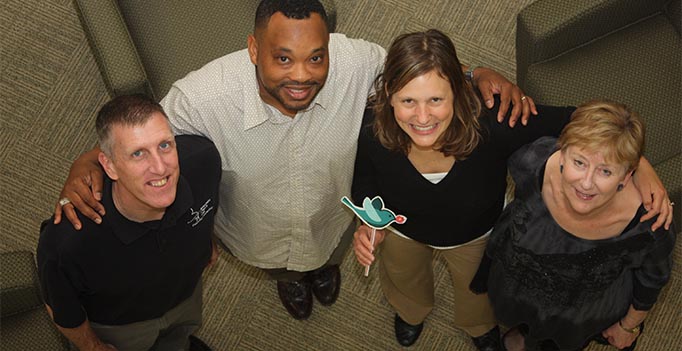 Heinzekehr (2nd from right) and other members of the MCUSA Convention staff
When she was 16, Hannah (Kehr '07) Heinzekehr joined a group of friends from Goshen, Ind., who rode bicycles to Nashville, Tenn., for the 2001 convention of the soon-to-be Mennonite Church USA.
Looking back, she particularly remembers the "cloud of witnesses" — employees of Mennonite colleges and universities — who filled a stage during youth worship in Nashville as a show of support for the attendees on the verge of adulthood. Convinced that the convention was a welcoming place, she has missed only one of the biennial gatherings in the 12 years since.
"Convention gives me a lot of energy," says the 2007 Bluffton alumna, who applied that enthusiasm since February to her new job as a planning coordinator for last year's event in Phoenix, Ariz.
This isn't the first time Heinzekehr has been involved with planning for one of the national conventions. She was a member of the committee that came up with the theme for Atlanta 2003; was a Bluffton student representative in the university's booth at Charlotte 2005; and at Columbus 2009 and Pittsburgh 2011, represented Mennonite Mission Network (MMN), where she worked at the time.
But as one of five staff members overseeing all planning for the Phoenix convention — which was July 1-6 — her duties have been considerably broader.
Among them, she says: helping shape the adult worship experience, arranging activities for children in fifth grade and younger and serving as social media and communications coordinator.
Communications included production of a daily, on-site newsletter, the "Phoenix Flyer," by a group of Bluffton alumni, faculty and students. "I'm excited Bluffton's willing to do this," says Heinzekehr, whose bachelor's degree from the university is in communication.
She was also responsible for public witness events, which focused on immigration and anti-racism — hot-button issues in Arizona due to a controversial state law — as well as peace-building and justice work. Along with tours of the Arizona-Mexico border and a "prayer walk" in downtown Phoenix, events included "learning such as salsa dancing lessons, a film festival, guest speakers and a cross-cultural simulation game."
Considering the convention site, and because intercultural understanding and overcoming racism are part of MCUSA's mission, "these issues really rose to the fore," Heinzekehr says. "I think it was some of the most meaningful programming that happened in Phoenix."
Any gathering of thousands of people entails "a crazy amount of logistics," she says, but the best thing about her job is "the way it brings you into touch with people across MCUSA.
"I love the chance to get to know the local congregations and work with them in Phoenix," she adds, praising local churches' dedication to their convictions and their work on the home front.
She has worked for MCUSA agencies since earning her degree from Bluffton, where she was a student in the academic "Communication in Church Organizations" program and an assistant to Dr. J. Denny Weaver, a professor of religion and "a wonderful mentor to me," she says. Soon after graduation, she interviewed with MMN, which offered her a position involving both writing and church relations work.
Due to flexibility with her major, "I came out of Bluffton with a skill set well-suited to work in church and nonprofit settings," says Heinzekehr, who, in 2012, added a master's degree in theology and community development from the Claremont (Calif.) School of Theology.
Someday, she adds, she might like to pursue a Ph.D. and teach, possibly a religion/communication combination similar to her undergraduate experience. "If I could, I would like to teach in a program like Bluffton's."