Student Athletes Learn and Compete in Greece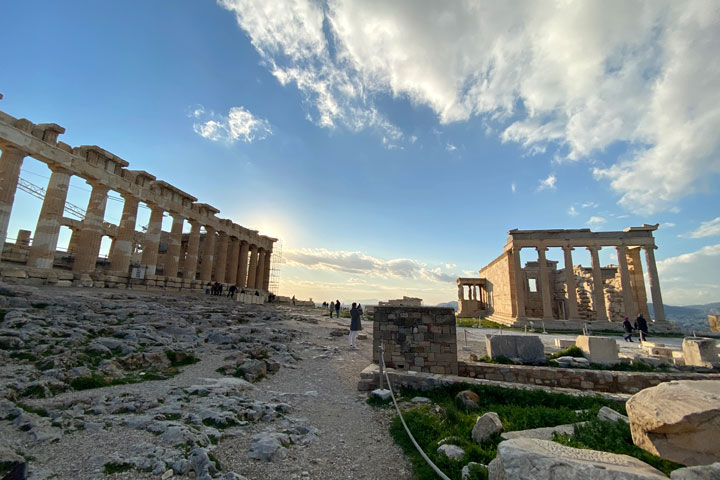 For three Bluffton students, a short walk from their residence hall and a ride on the metro brought them to the edge of the Acropolis.
Taylor Dye '23, a sport management and business administration major from Millersburg, Ohio; Maxwell Kennedy '23, a mathematics and business administration major from Strongsville, Ohio; and Elijah Zimmerman '24, a mathematics major from Archbold, Ohio, spent the spring 2022 semester at the American College of Greece (ACOG) in Athens.
"We almost took it for granted after a while because we saw it so often," said Kennedy. "It surpassed my expectations."
"When you think of the United States as a country, it's only about 300 years old. Greece is 2,000-plus," added Zimmerman. "Anywhere you went in the country, you were surrounded by history."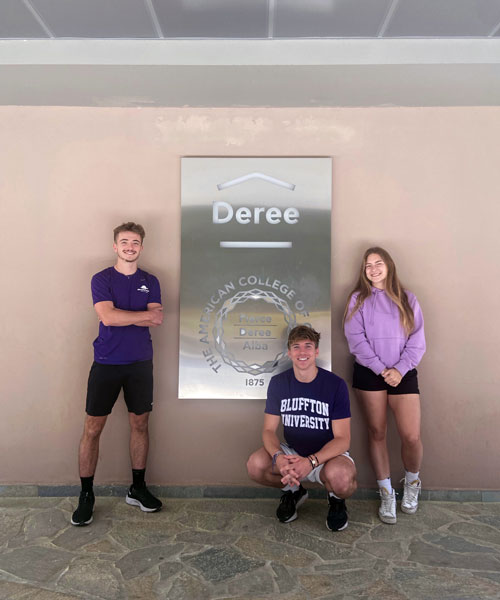 With access to public transportation, the three traveled across the country. Dye and Kennedy also traveled to Barcelona, but a visit to Santorini was Dye's favorite.
"The sunsets were just so pretty. I took a lot of pictures, but they don't do it justice," said Dye.
Classes were taught in English with peers primarily from Greece. Kennedy and Zimmerman learned some of the language, while Dye took a class focused on the Olympics.
All three are soccer student-athletes at Bluffton, and Kennedy and Zimmerman competed on the ACOG team. Without an official team for women, Dye competed in a Futsal League.
While they adapted to academics and athletics quickly, there was one thing they didn't prepare for: snow.
"It was one of the worst winters they had in a decade," said Kennedy. "We got a lot of snow that shut down the city—no cars moving, no shops open, but we built a snowman taller than any of us!"
Overall, all three made lasting friendships, fulfilled bucket-list items, and developed confidence in themselves.
"This was a once in a lifetime experience," said Dye. "You're not likely to have the opportunity to live in another country for four months when you have a fulltime job."
"Things would go wrong, and we had to find new ways to go about what we wanted to do," said Zimmerman. "We learned to be responsible for each other and to be responsible for ourselves."