Educating The Mind and Heart in Urban Chicago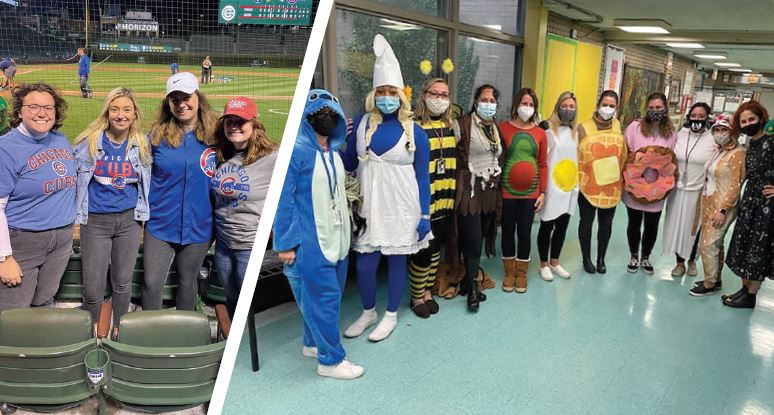 Three future educators: Abby Bullion '22 of Bellevue, Ohio; Tabatha Koetter '22 of Beavercreek, Ohio; and Brylee Oberdorf '22 of Green Springs, Ohio, spent the fall 2021 semester completing their elementary education student teaching requirements in Chicago.
"Chicago opened my eyes to a whole new side of education that I had no idea was there," said Bullion. "I will be doing more to advocate for diversity and inclusion in my future classroom because of the things I learned while working in Chicago Public Schools."
In addition to their student teaching experiences, the Bluffton University students lived and learned at the Chicago Center for Urban Life and Culture. CCULC provides professional practicum opportunities and seminars on urban life. Before starting their professional experiences, participants learn about Chicago and its history, navigate public transportation and visit non-profit organization's such as Kids Off The Block.
Bullion taught at Enrico Tonti Elementary School while Oberdorf and Koetter taught in A.N. Pritzker Elementary School.
"I enjoyed my time at Pritzker Elementary and all the city had to offer," said Koetter. "The city pushed me outside of my comfort zone and prepared me for a future in the classroom."
All three double majored in primary P-5 education and intervention specialist and completed their intervention specialist student teaching assignments near Bluffton during spring 2022 semester.
Oberdorf built on the hands-on experience gained in Chicago while working with K-4th grade students at Pandora-Gilboa in the spring.
"While both experiences are giving me a good set of foundational skills to take into my teaching career, I received a set of skills that I never would have gotten if I stayed in Bluffton the whole time," said Oberdorf. "I am thankful for having the opportunity to student teach in Chicago, and I feel that I am a better teacher because of it."
All three are actively applying to positions in education. Oberdorf enjoyed her time in Chicago so much, she plans to move there to teach. Bullion is applying to positions in northwest Ohio and Koetter in the Dayton area.