Design Your Life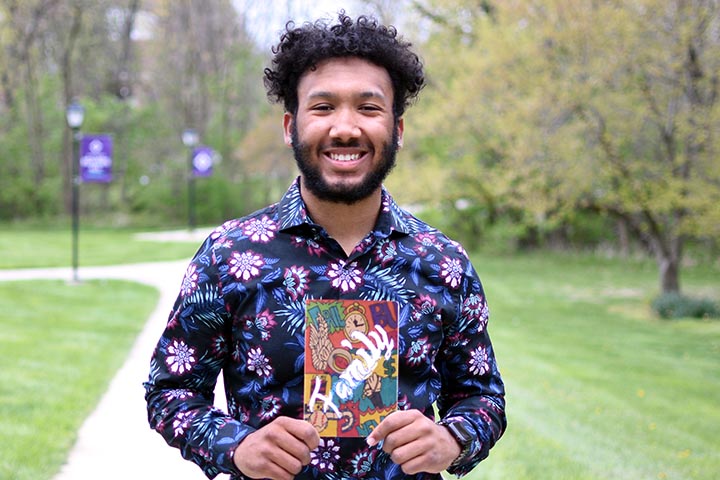 What is your major? What do you want to do with your life? Where do you see yourself in five years? Incoming students are often pressed to answer these questions and have their lives fully planned out before even stepping foot in a college classroom.
In reality, many first-year students need some extra guidance. During the 2020-21 academic year, two sections of Bluffton's first-year Becoming a Scholar (BAS) class piloted a new program called Design Your Life (DYL). Using elements of a curriculum originally developed at Stanford University and modified for Bluffton undergraduates, DYL helps students get more out of (instead of just cramming more into) their college experience.
"Design Your Life really connects with the part of Bluffton's mission statement that talks about preparing students for 'life as well as vocation,'" explained Marathana Prothro, assistant professor of communication.
"In BAS, we're still talking to students about Bluffton's values and finding a sense of belonging at Bluffton, but we're also introducing some new ideas about reflecting on your past to help you figure out how to move forward."
Prothro along with Dr. LaShonda Gurley, former director of the Center for Career and Vocation, taught the piloted sections. However, all BAS sections will include DYL components starting in fall 2021.
For Darius Boeke '24, a mathematics major from Sidney, Ohio, the DYL lessons changed the way he approaches college.
"I was never a big planner. I never thought about what I was going to do in four years," said Boeke. "I was more of a go-with-the-flow type of guy, but with that class, I realized, time management is key. Doing the plans and maps helped me realize I need to stay on track to reach my goals."
The curriculum is based on a framework called the Discovery Cycle, where students move through a continuous cycle of engaging, reflecting and storytelling. Students sketch their ideas and progress in a journal and are encouraged to explore a range of possibilities for their future. Designers describe this process as prototyping.
They also use a variety of planning tools including:
Odyssey Plans, graphic representations of three possible alternative lives
a student might live over the next five years.
Energy assessments, visualizations of the activities which invigorate or
deplete a student's energy to better design a fulfilling life.
Wayfinding Maps, tools to help student document their experiences, reflect on the connections between them and identify emerging patterns.
"Wayfinding is the ancient art of finding out where you are going without knowing where your destination is," explained Gurley. "The South Pacific explorers, using only stars and currents accomplished some of the greatest feats of exploration and migration in history. Wayfinding your life is similar. There is no one destination in life, but we can pay attention to the clues in front of us to build a way forward."
Or, to quote Steve Jobs, "You can't connect the dots looking forward; you can only connect them looking backwards."
The book, "Designing Your Life" by Bill Burnett and Dave Evans inspired the Design Your Life curriculum, which was originally developed at Stanford University. As the book's description states: "The same design thinking responsible for amazing technology, products and spaces can be used to design and build your career and your life, a life of fulfillment and joy, constantly creative and productive, one that always holds the possibility of surprise."
For Lydia Saylor '24, a psychology and social work double major from Convoy, Ohio, the class far surpassed her expectations and helped her determine not only who she is now but the type of person she wants to be in the future.
"We spent a lot of time mapping out our four years at Bluffton while figuring out what we truly value and want," said Saylor. "We considered different futures and careers and learned about how to get there."
At the end of the fall 2020 semester, each student in the pilot classes pieced together what they learned and shared a personal narrative through a video assignment.
Part of Bluffton's strategic plan, DYL tools will eventually be woven into all four classes in the Bluffton Blueprint, including the senior seminar, Christian Values in a Global Community. They can also be adapted and translated for personal and professional use well beyond graduation.
"Our students' stories are powerful and they are inspiring," said Prothro. "I wish I had a process like this when I was a student."
While the BAS classes are taught by university faculty, each section also has a student mentor who answers questions and helps first-year students navigate their way at Bluffton. Next year, Boeke will serve as the mentor in Prothro's section.
The key DYL message he will share with students:
"Accepting failure is okay. There are going to be days when you don't do your best, but it's about designing ways to overcome your mistakes. Yeah, you might mess up, but there are a thousand opportunities for you to be great."