Faculty 360: James Grandey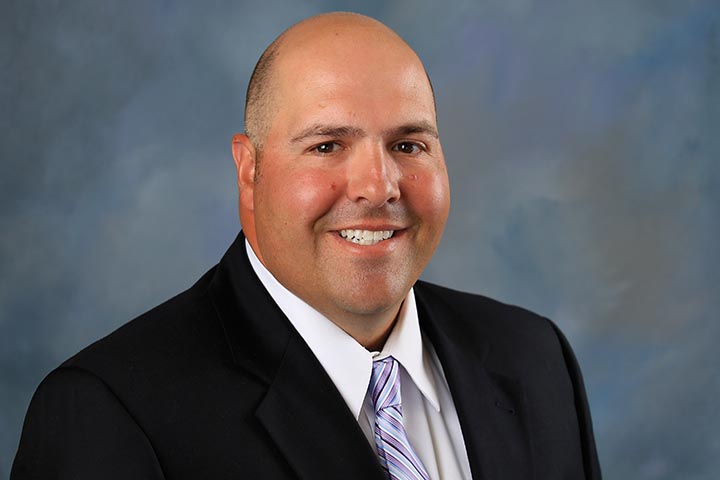 James Grandey is head baseball coach and deputy athletic director at Bluffton.
You were selected as an ambassador for the nonprofit Vs. Cancer. Tell us about the baseball team's involvement in the campaign to end pediatric brain tumors.
We began supporting the fight against childhood cancers in 2012. My assistant coach at the time, Aaron Hutchison MBA '12, met Chase Jones, founder of Vs. Cancer, at a coaching convention. Since we began this journey, we have raised over $50,000 through donations from our players, friends, family and supporters.
The efforts with Vs. Cancer are just one piece of service the team completes each year. How else is service incorporated into your coaching philosophy?
We are all very fortunate to be at Bluffton, and we raise a lot of money each year to support our program. It is important to return the favor, so to speak, and give back to those that support us and especially those who are not as fortunate as us. Service is one of Bluffton's four enduring values, and as a head coach, I believe it is my responsibility to incorporate all the enduring values into our program. Our community service includes helping on campus and in the community of Bluffton, which allows our players the opportunity to meet community members, and also, through groups like Vs. Cancer, on the regional and national level.
You've served as Bluffton's baseball coach for 17 years. What drew you to the field of coaching?
I was fortunate to have great role models growing up. My dad has umpired baseball for over 40 years and was always dragging me to the park to chase foul balls, and my mom was a teacher for 30 years. My high school coaches helped me forge a work ethic and passion for the game while my college coaches showed me how I can incorporate my passions into a career. I believe I can make an impact, like my parents and coaches.
What is the best piece of advice you ever received?
I'm not sure this is advice that I've received, but through my years I've learned that if you understand "why" you do what you do, you will never burn out. We all get tired and need to recharge, but if we truly know why we do what we do, we will never tire from doing what we are called to do.