Alumni profile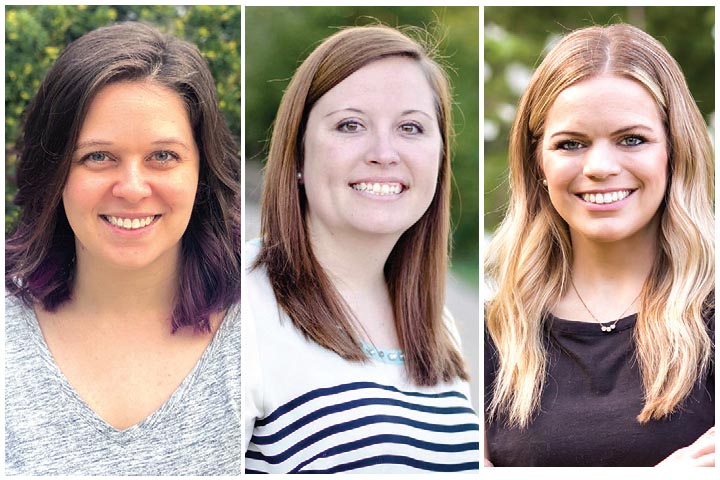 Transitioning to Telehealth
Amber (Swaney '12) Anderson
Participant support lead
Major: Food and Nutrition; ISPP
Jessica (McDonald '12) Pence
Registered dietitian and lifestyle coach
Major: Food and Nutrition; ISPP
Heather (Schierer '13) Davis
Participant support manager
Major: Food and Nutrition

Nearly a decade after taking classes together at Bluffton University, three food and nutrition alumni have recently been reunited in their efforts to improve health and well-being. Heather (Schierer '13) Davis, Amber (Swaney '12) Anderson and Jessica (McDonald '12) Pence all work for New York-based telehealth company Fruit Street. The company provides the CDC's diabetes prevention program through a mobile app and classes held via Zoom.
"We're teaching the basics of food, how to make meals, why activity is important and how to live a healthy life," explained Pence, a registered dietitian and lifestyle coach. "It's about accountability and letting our participants know they aren't alone on their journey."
A surge of interest
With 20,000 current participants, the company is quickly growing in the area of telehealth.
"A lot of people are familiar with Zoom now. They say, 'Oh yeah, I've done church by Zoom or my kids' classes are on Zoom,'" explained Anderson, a participant support lead. "Even the older generation is more comfortable with it."
While Fruit Street already had plans to expand, the COVID-19 pandemic amplified the demand for telehealth services.
As a participant support manager, Davis' primary responsibility is to improve user experience by connecting the clinical side of the operation with the engineering team. While her knowledge of food and nutrition is important to her work, the lessons she learned through Bluffton's cross-cultural program have been key.
"We have participants from across the United States so just being able to relate to different people with different cultures has been incredibly useful, and I developed those skills through the cross-cultural program," said Davis.
Finding a fit at Fruit Street
While the three Bluffton graduates all work remotely and are rarely on the same Zoom call together, they've each found a good career fit at Fruit Street.
Davis is exploring a new interest in management.
"I wanted to have more of a say in the future of Fruit Street, in the future of our app and to make sure our product is helpful to our participants," said Davis. "This is not what I was expecting to do after graduation at all, but I'm really enjoying the management aspect of the position."
Anderson, who had previously left the field of nutrition and never earned her licensure, is reengaging in the field she was drawn to in college.
"I've worked various jobs and enjoyed them all because they've always led me to my next spot," said Anderson," but this is the job that I've felt most comfortable in. I'm doing something I enjoy, and it's something that I've missed."
She's even reengaged with Jennifer Little, former dietetics internship experience director, about sitting for the RDN exam.
Pence is enjoying interacting directly with participants from the comfort of home after previously working at an office job with a long commute.
"My career has come full circle," said Pence. "My first job as a dietitian was in a weight loss clinic and then I left there and did diabetes education. With Fruit Street, it's a combination of both, and I get to help people meet their personal health goals."