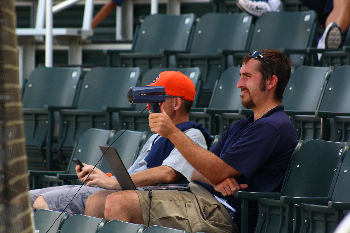 Tim Kay '08
While Tim Kay loved playing baseball—a passion instilled in part by his father—he really didn't dream of playing in the major leagues, nor was he even a big fan of any team.

Kay pitched and hit his way into the record books at Bluffton while his professional interests continued to focus on the front-office side of the game. Interested in scouting players, the 2008 alumnus worked as an intern for two major league clubs, the Washington Nationals and the Los Angeles Dodgers, before joining USA Baseball, the national governing body for amateur baseball. He served as coordinator of the Collegiate National Team last year before landing a full-time job in February 2014 as the organization's director of video scouting.

"They gave me a new department to run," says Kay about his job, where he is responsible for providing multi-angle video of potential members of USA Baseball's age-based national teams to each team's selection committee.

Kay was a pitcher while growing up in Alpharetta, Ga. When he found Bluffton, "I was looking for a school with sport management and where I could play baseball right away," he recalls. When not pitching for the Beavers, he was an outstanding designated hitter, with a career .403 batting average, third highest in Bluffton baseball history.

Kay didn't have a job lined up as he graduated with a sport management degree. But driving back to Georgia, he landed a media relations internship with the Columbus (Ga.) Catfish, due in part, he says, to an internship in group sales and promotions the previous summer with the Rochester (N.Y.) Red Wings.

Then, in December 2008, he attended major league baseball's annual winter meetings, where he found work with Baseball Info Solutions (BIS). He was among 16 interns who watched baseball games during the 2009 season, tracking all manner of statistics and entering data that teams bought for advance scouting purposes, Kay explains. "That was the test if I could do this," he laughs, referencing the amount of video he now watches for USA Baseball.
BIS then recommended him to the Nationals for an advanced scouting internship, in which he worked with players viewing video of themselves or opponents. He then moved on to the Dodgers for the 2011 and 2012 seasons as a minor league video coordinator. "In this industry, it's actually kind of easy to get that internship," he says—but getting a full-time position is another matter.

Looking for a job again in late 2012, he talked to a fellow intern who turned down a USA Baseball offer for an internship with the Baltimore Orioles. Kay then turned to the Durham, N.C.-based organization, which made him Collegiate National Team coordinator for 2013.

In that role, he was tasked with bringing a video presence to player selection for the team. That meant watching college baseball and delivering video to the coaches who determined the roughly 40 hopefuls who were invited to tryouts.

USA Baseball has produced a number of players who have been first-round picks in the Major League Baseball draft, and Kay, now as director of video scouting, is an important part of that effort.

His ultimate goal is to find those kinds of players as a major league scout. He recently graduated from Major League Baseball Scout School, a two-week "crash course" on how to evaluate players and prepare written reports for teams' use.

With an evaluation of his performance provided to all 30 MLB clubs, he now, like a prospective big league player, hopes to get "the call."
Included Content