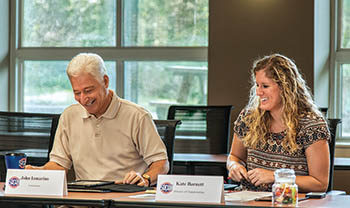 Kate Barnett '09
When Kate Barnett goes to a college sports championship, a good seat is not necessarily what grabs her attention.

"The first thing I notice is a crooked sign," says the 2009 alumna, readily acknowledging that she thinks about things the average fan doesn't consider.

A meticulous nature should serve her well in her new job, as director of championships for the Division I Southern Conference. In that post, she oversees 19 championships—in 10 men's and nine women's sports—for the conference's 10 member institutions in six Southeastern states.

"It's unique," Barnett says about the position. "A lot of people don't know what I do." For example, in her first two months on the job, she attended a series of coaches' meetings; made site visits to member schools that may bid to host future conference championships; and worked on a promotion for the 2014-15 wrestling and men's and women's basketball tournaments, which will be held concurrently in Asheville, N.C.
Planning for championships involves a lot of logistics, such as confirming and coordinating officials, ticket preparations, hospitality arrangements for visitors and, yes, signage.
"I love the events planning side; I love the details," and she's committed to putting on the best possible championships for participants. "You've got to make it special," she says. "That may be the only championship they go to in their college career."
"I care about the student-athlete experience," adds Barnett, who played volleyball for three years at Bluffton. "When sports gets away from the student-athlete experience, that's when I want to get out."

At Bluffton, the chance to play volleyball was only one of the attractions. Among others were the university's intimate size, small-town feel and offering of a sport management major. Persuaded by business faculty, the North Bloomfield, Ohio, native added a second major, in business administration, as a junior. "I thought I wanted to be an athletics director of some sort," says Barnett, who had three required internships, one for each major and her minor in coaching.

Her Bluffton internships helped her secure the position of associate athletics director at Ripon (Wis.) College, where her duties included implementing conference championship hosting responsibilities for three sports, and managing all aspects of concessions, ticketing, crowd control and visiting team hospitality. She was also co-adviser of the Student-Athlete Advisory Committee—of which she was a member at Bluffton—and assistant volleyball coach.

Barnett then moved to Belmont University in Nashville, Tenn., where she was a graduate assistant in game operations while working toward her master's degree in sport administration, which she earned last year. While at Belmont, she met another graduate student who had been a media relations intern for the Southern Conference. And through the national collegiate marketing administrators' association, she made connections with a current conference employee. "It really is the network that gets you where you need to be," she says.

The Duncan, S.C., resident still credits her Bluffton experience with helping her get started on her professional journey. In addition to the volleyball opportunity and the mandatory internships, Barnett points in particular to a Christian environment and the mentorship of faculty both in business and sport management, where she was influenced by coaches who also taught.
"They're living and breathing the job," she says, citing the influence of Steve Yarnell (volleyball), Guy Neal (men's basketball) and James Grandey (baseball), and of Tami Forbes, department chair at the time. "Who else would you want to learn from?"
Included Content