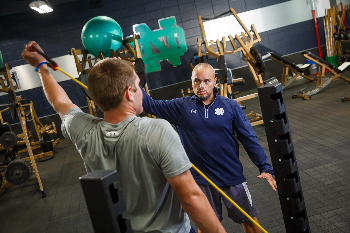 Craig Cheek '97
He has his "dream job" at the University of Notre Dame, but his Bluffton education taught Craig Cheek that serving others is what really matters.

Bluffton's "emphasis on preparing us to serve others is what struck me the most" as a student, making a job "an actual calling to do service." He is now serving Notre Dame student-athletes as an assistant director of strength and conditioning, a position where the athletic dimension of his undergraduate experience has also been valuable.

Coming from Clyde, Ohio, Cheek's initial thinking was to continue his competitive interests in football and track. "Bluffton offered a perfect opportunity" to do that—and with "tremendous" coaches—while getting a degree. He participated in both sports all four years, which helped him prepare to relate to the student-athletes he trains on the women's basketball, baseball and track and field teams at Notre Dame. "I know what they're going through," he points out, describing their full schedule of academics and athletics as "crazy."

Now in his eighth year at Notre Dame, Cheek must challenge those in his charge to buy in to doing "uncomfortable things"
for the sake of improved performance. And "they'll go to the moon for you," he says, calling "the interaction and developing relationships with student-athletes" his favorite parts of the job.

Cheek majored in health, physical education and recreation at Bluffton and earned a master's degree in developmental kinesiology from Bowling Green State University in 2004. During that time, he also learned that his profession "is very difficult to break into." In addition to his graduate studies, he worked as a teacher, personal trainer and as a strength and conditioning intern in minor league baseball.

By the time he applied to become an assistant strength coach at the University of Minnesota-Duluth in 2004, he had made a decision. If no interview was forthcoming, he was prepared to reassess his career goals.
Fortunately, after a telephone interview with the head strength coach, he was hired the next day. "My foot is in the door," he recalls thinking. "What am I going to do with that opportunity?" The answer was to work every day like it was a job interview—an approach that prepared him well for his move the next year to Nicholls State University in Thibodaux, La., as head strength and conditioning coach.

During his two years at Nicholls State, Cheek fostered relationships with community members, including the CEO of the Thibodaux Regional Medical Center, which made a $150,000 donation that enabled renovation of the university's weight room.
Cheek's persistence and professional achievements positioned him for the move in 2007 to Notre Dame, where, in the shadow of the iconic Golden Dome, he feels "very fortunate and very blessed."

The preparation for service that he received at Bluffton has "helped me realize there's a higher calling," says Cheek, who, with his wife, Sheri (Knife '97), has a daughter, Kennedy, and a son, Carson. "This world is bigger than any one of us, and it's up to us to make it better."
Included Content