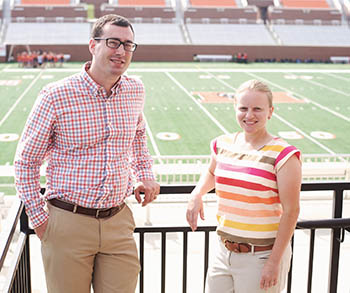 From Bluffton to Macon:
Classmates reunited in Georgia
Lisa Cherry '07 and Jordon Bruner '07 were acquaintances, classmates and student-athletes who worked in the Bluffton athletics department.
Yet it's fair to say that they never expected to work together in the same department at another university, seven years and nearly 700 miles down the road.
Cherry, from Waterville, Ohio, earned her bachelor's degree in sport management and moved on to athletics marketing positions at three Southeastern colleges and universities. Last spring, interviewing for a job as director of new media for Mercer University athletics, she learned that her interviewers had just hired another Bluffton graduate as an assistant director of media relations.
That was Bruner, an economics major whose experience in Bluffton's sports information office led him to a graduate assistantship in that field, followed by a job at Purdue University Calumet in northwest Indiana.
And four months ago, only one week after he started at Mercer, in Macon, Ga., in walked his new co-worker with a familiar face. "Believe me, it was a shock," but a humorous one, says Bruner, agreeing with Cherry that they're glad to be in the same place.
"It's been awesome," he adds. "Knowing each other beforehand has made the transition much smoother."
Collaborating on the job
Cherry notes "a lot of crossover" between Bruner's media relations duties and hers in new media, where her primary responsibility has been producing live streaming of Mercer home football games for ESPN3 and WatchESPN online. "We are the first school to operate a campus-produced football broadcast for ESPN," she points out.
One of her first major projects was developing marketing materials for football. Part of that process involved lining up player photos that Bruner would also need to put together a media guide and programs for Mercer's seven home games this season.
Now, in season, they collaborate on statistics and storylines for her next online broadcast. And after each game, Cherry sends video highlights to Bruner so he can forward them to media.
There's no such thing as a typical day on the job, they say. "That's what's fun about it," says Cherry, explaining that everything leads to football game day on Saturday.
Her responsibilities, in addition to developing storylines for broadcast, include creating advertising materials "to get people on campus" and in the stadium. Bruner's priorities include sending game notes and other information to media; setting up coach and player interviews with local TV stations; updating the 16-24 pages that change for each game in the 76-page program; and working on graphics, which is where he and Cherry collaborate most.
The Wauseon, Ohio, native likes what he calls "the diversity of the day," but at the same time, "the show never stops; you put in some long hours." Football wins and losses aside, he and Cherry have "victories" of their own, he continues. They, and their co-workers, want fans to have a "great experience" from pre-game tailgating to post-game recaps and, "if we can get through the long day smoothly, that's a victory for us."
"You work hard to pull those things off," adds Cherry, agreeing that while the pace and changing demands can be a challenge, she wouldn't have it any other way. Doing different things "challenges you to learn new things," she notes.
Two roads to Mercer
"I always wanted to work in sports," says Cherry, who played tennis all four years at Bluffton and was a student employee in the women's basketball office. "I didn't know I wanted to work in TV and video."
After graduation, she started in graphic design, following a two-year marketing internship at Wofford College in South Carolina with a year as athletics events and facilities manager at Gardner-Webb University in North Carolina.
From there, she moved to Kennesaw (Ga.) State University.
She served as a graduate assistant in marketing—while pursuing her master's degree in sport administration from Georgia State University in nearby Atlanta—then worked full time for two years as creative services coordinator. She oversaw an ESPN3 project at Kennesaw State before the desire to do it again at Mercer drew her to Macon, south of Atlanta on Interstate 75.
Bruner was recruited to run track at Bluffton, and "I grew up in the Mennonite church, so that was a pull as well," he says. He was thinking about a career in the financial sector, but working two years for sports information director Bill Hanefeld "was my stepping stone into this industry."
He was recommended for a graduate assistantship in the sports information office at Defiance College, where, while working toward a master of business administration degree, he "fell in love" with college athletics administration as a career path. Moving on to Purdue Calumet, Bruner served as assistant athletic director for sports information, marketing and event management for five years. During that time, the number of sports at the school rose from two to 12, and he became a supervisor. "I think that probably helped in the application process at Mercer."
Remembering the Bluffton difference
Cherry keeps in touch with Bluffton and, this year, has helped sophomore Brett Whitfield, from Acworth, Ga., secure a marketing internship in the athletic department at Kennesaw State.
And her classmate and co-worker hasn't forgotten where his career preparation started, either. "Bluffton gave me the opportunity to set myself apart resume-wise with experience," says Bruner, whose wife, Jenna (Kauffman '09), played tennis with Cherry at the university and is now doing so again in Macon.
"That's what makes Bluffton special," Bruner says. "You have an opportunity to get hands-on experience."
Included Content