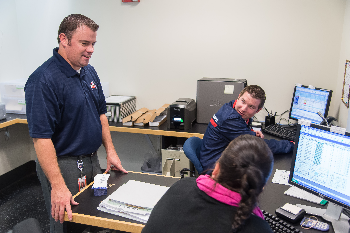 Mark Metz '97
It's one thing to get in on the ground floor of a company. Mark Metz got a subterranean start with the National Hockey League's Columbus Blue Jackets.

The Blue Jackets' home since their debut in 2000, Nationwide Arena was still "a pit in the ground," Metz recalls, in 1997, when he started trying to sell often-skeptical listeners on filling its 18,000-plus seats for NHL hockey.
As it turned out, the Bluffton graduate was only beginning a journey in ticket management that would take him away for seven years before returning to the Blue Jackets in 2011. The Norwalk, Ohio, native has been the team's director of ticket operations since then.

Drawn to Bluffton in part by its small class sizes and the opportunity to continue playing baseball, Metz was undecided on a major. "I always wanted to do something with sports," he remembers, and when a friend asked if Bluffton had a sport management program, he followed up and enrolled. And eventually, working for a pro team became a goal.
His opportunity came through an aunt with a connection to a consultant with Cleveland-based Sports Facilities Marketing Group. Columbus had been granted an NHL franchise, and the firm had begun work on a personal seat license (PSL) program for the future arena. Purchasing a PSL—now common in pro sports—entitles the holder to buy season tickets for a particular seat.

Metz landed an interview with the marketing company the summer after he earned his sport management degree. By that fall, he was in Columbus, one of four young customer service representatives attempting to convince the public to invest in a PSL and, later, season tickets for a team that wouldn't begin play for another three years.

"In the beginning, it was tough," he says, noting the lack of a team to sell and the formidable collegiate competition in Columbus. "Try to sell hockey in a football town."

But Metz quickly realized he loved the challenge. And when the marketing group promoted him to project coordinator, "I really had my hands in everything," he says.
When the Blue Jackets actually took the ice in October 2000, he was among 10 holdovers from the marketing group who had become team employees. He was a ticket operations manager for four years, until a labor dispute between NHL owners and players canceled the 2004-05 season.

By then, Metz also felt ready to move up in management. His former boss's boss, and friend, with the Blue Jackets had moved on to the NBA's Portland Trail Blazers, and he soon helped coax Metz there, too, as director of ticket operations.

After four years in Portland, he and his wife, Melissa, were ready to be closer to home again. Returning to Columbus, he joined Ticketmaster in 2008 before rejoining the Blue Jackets three years later.

He had been missing "that team feeling," Metz says, referencing both co-workers and "the fun atmosphere of a game day," which creates excitement in the arena that "you don't get in a 9-to-5 job." That electricity, he continues, went to "a whole other level" last season, when the Blue Jackets reached the playoffs for only the second time in franchise history.

"It's different every day," says Metz of his director's job, which entails considerable database management, sales and financial reporting, plus—as the fall opening of the season nears—getting tickets printed, packaged and sent to season ticket holders. The team's success last year, coupled with Columbus hosting the NHL All-Star Game in January 2015, has been "huge" in season-ticket sales for 2014-15 surpassing 10,000 for the first time in several years.

He calls himself "one of the lucky ones," who is "doing what I trained for, what I went to class for." He took Bluffton business courses that provided a foundation, citing Bill Lyons, now assistant professor emeritus of business, as particularly influential. "Every one of his classes was just eye-opening" with real-world relevance, Metz remembers. And he credits his liberal-arts education in general, and the interpersonal skills and work ethic taught along with it, with aiding his rise in the arena.
Included Content