Touching Home
The summer 2008 Bluffton magazine, titled Touching Home, focused on the one-year anniversary of the baseball team bus accident.
One year later
Bluffton remembers and reflects
One year ago, on March 2, 2007, the Bluffton baseball team experienced an accident that forever changed the lives of the players, coaches, their family and friends and the Bluffton campus community. While traveling to Sarasota, Fla., the baseball team's charter bus fell from an overpass in Atlanta, Ga., killing student-athletes David Betts (Bryan, Ohio); Scott Harmon (Lima, Ohio); Cody Holp (Arcanum, Ohio) and Tyler Williams (Lima, Ohio); and the bus driver and his wife. Twenty-eight others were injured. Student-athlete Zachary Arend (Oakwood, Ohio) died one week later.
That single moment changed lives. But from that moment, a sea of moments arose. Hundreds of thousands of moments when complete strangers lent a helping hand. Moments when friends, family and community members gathered to lean on one another. Moments whe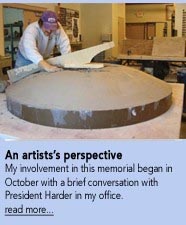 n the Bluffton baseball players, coaches and campus community realized that an entire world outside of Bluffton was supporting them, praying for them, wishing them well.
The year that has passed has been one filled with grief, sorrow, healing and hope. With the one-year anniversary of the accident, a fresh wave of emotions arrived, accompanied by time for remembrance and reflection, the start of a new season and a chance for returning players and new players to take to the diamond and play a game that remains unchanged, a game that is a constant in their lives.
Throughout the pages of this magazine, you will find images and impressions of one-year anniversary events—Bluffton taking the field against Eastern Mennonite University on March 2, 2008; remembering and reflecting during a Service of Remembrance; the Circle of Remembrance and more. As one of more than 14,000 readers of Bluffton magazine, you are part of an extended community, and we invite you to share in our experiences and always remember the importance of "touching home."


Zachary Herman Arend grew up in Oakwood, Ohio, where he loved playing baseball and being outdoors. He was competitive in all sports but with a special passion for baseball. A pitcher at Bluffton, he hoped to one day manage a major or minor league baseball team. Zachary is remembered for his quiet, yet fun-loving personality and approach to life.


David Joseph Betts grew up in Bryan, Ohio, and approached everything with his whole heart, including baseball and music. A second baseman for the Bluffton baseball team and a pre-med major, he was contemplating occupations in the science and education fields. David is remembered for the way his personality positively touched everyone he met.

Scott Graham Harmon , a scholar-athlete from Elida, Ohio, was a fierce competitor on the field and a gentleman off the field. At Bluffton, he was majoring in math education and was a third baseman on the baseball team. His ability to see things from every perspective, along with his strong work ethic, helped shape his leadership by example. Scott is remembered as a teacher, coach and loyal friend.


Cody E. Holp grew up in Verona, Ohio, with a passion for life and family. He loved all sports and was a natural leader who served as a volunteer caretaker for a quadriplegic. At Bluffton, he was working toward a degree in sport management and business and was a pitcher on the baseball team. Cody is remembered for his smiling presence and caring concern for others.


Tyler LaMar Williams grew up in Lima, Ohio, and lived a life filled with activity, creativity, family and friends. He excelled in many pursuits, including music, sports and business. At Bluffton, he majored in business and was an outfielder on the baseball team. He dreamed of being a successful entrepreneur and culinary chef. Tyler is remembered for his radiant love of life and friends.
The magazine sent after the accident: Healing and Hope
Included Content